Flexi-work-ing our muscles with our London office launch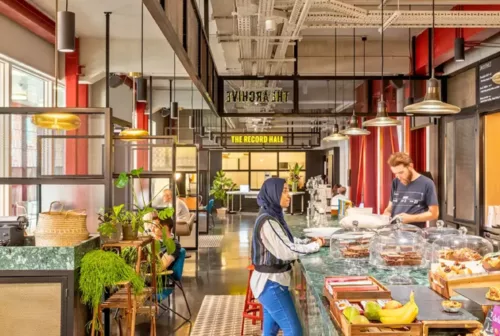 As a business, we pride ourselves on our flexible approach to working.
'Officeless' working was something that became widespread by necessity for most businesses during Covid, however, we've very much stuck to our guns with the approach since the pandemic.
The 'officeless' model transformed our business. This blog I wrote for the PRCA, 'collaboration without walls', sums it up best. Through this style of working we embedded processes to support integration and creativity and since then, our team has achieved record revenues and expanded at a rapid rate, growing from 20 something to over 40 colleagues across the UK.
However, recent feedback from the team has shown a greater desire for more access to dedicated collaborative spaces. At Meeting Place, our commitment to flexibility runs deep and, to be truly flexible, we have to stay open to change based on a changing situation.
We've therefore adopted a tribrid working model, giving our staff the option to work from home and a budget to facilitate working flexibly from a dedicated office or a third-party location, whether that's in a café or client office, whenever they please.
We're also delighted to announce our new space in the heart of London, with the opening of our new office in The Record Hall, Farringdon. This London hub joins our already successful dedicated space at Desklodge House in Bristol.
Although we've had a presence in London for many years, a dedicated space in the capital represents an exciting milestone for the team. We're committed to using the built environment as a catalyst for positive change, and this new space will bring our colleagues closer together towards that goal, our projects and our growing client base.
The Record Hall is a perfect place for us to realise that future ambition, a strategic location less than seven minutes from Farringdon Station, with a vibrant and dynamic environment.
If you'd like to come in for a coffee, a catch-up and a nosy around, feel free to email us: hello@meeting-place.uk