Reflections from a day volunteering at the Westbury Community Shop and Cafe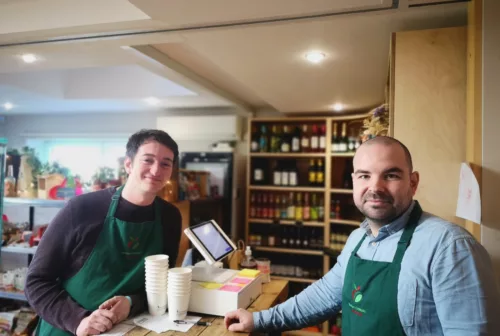 At Meeting Place, we know that the built environment has the potential to bring about positive change.
It's what makes our partnership with the Plunkett Foundation, whose work also embodies this, such a natural fit. It's also why my colleague Joe and I opted to use our annual Volunteering Day through the Foundation, spending the day at the Westbury Community Shop and Café.
Those in need of evidence of such potential need not look further than this small haven of local produce on the border of Buckinghamshire and Northamptonshire.
From the moment we arrived, it was clear how special this place was; a local shop championing local people and produce.
After being given the tour by Mel, we were quickly put to work preparing hot drinks and serving customers on the tills (thankfully these have become vastly more intuitive than they were in our previous spells in retail as students).
Working alongside Mel and her dedicated team of volunteers helped bring to the fore just how important places like this are in acting as a central hub of activity for the community.
When she wasn't distracted by having to show us the ropes, she was busy taking orders for the café's Friday night takeaway menu and collecting donations from local residents ready to be shipped to Turkey and Syria to help those affected by the recent earthquake.
Over a delicious lunch, with our public relations hats back on, we talked through a range of ideas about how the shop can harness social media to drive local people through its doors as both loyal customers and future volunteers.
It was then back to work, restocking shelves from the afternoon's delivery. Almost everything inside the shop is either grown, sourced or produced locally – from Geoff the baker's handmade batches of delicious sourdough, to 'Westbeery' – the shop's very own brand of Pilsner brewed at the nearby Roman Way Brewery in Weedon.
As well as contributing to the local community, this approach also helps to tell the human story behind the produce; championing local farmers, artisans and creatives.
On top of being a thoroughly enjoyable day out of the office, our annual Volunteering Day was a reminder to us both of just how much of a lifeline seemingly small spaces like this can be for communities across the length and breadth of the country.