Nikki announced as 42 under 42 entrepreneur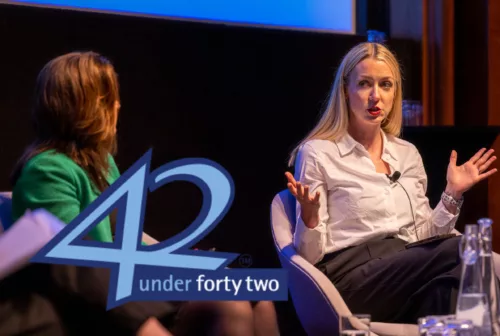 Every year, Insider Media celebrates 42 entrepreneurs aged 42 and under – innovators and leaders heading up startup and scale-up businesses right across the country.
We're delighted to reveal our MD, Nikki Davies, has been revealed as one of South West's class of '23!
As a Goldman Sachs' 10,000 Small Businesses UK leader, Nikki joined the business in 2011 and has played a fundamental role in the firm's success, rising up from a junior position to become MD in 2020.
The Bristol-headquartered business has grown from 10 employees to nearly 40 during Davies' tenure, with turnover anticipated to be around £3.2m for the current financial year, with pre-tax profits of £400,000 expected.
Nikki comments: "When this 'club' was launched years ago, the average age on Insider's Power list was 52 (and predominantly male). As someone who is proud to live and lead a business headquartered in the South West, it's a real honour to be recognised as someone who is 'excelling in heading up businesses in the region'.

"Reading the short article on myself made all the #impostersyndrome feelings rise to top. I kept thinking I was just lucky, in the right place at the right time etc. And it is true. I am lucky, but also have to continually remind myself how incredibly hard I have worked to get my career, and the company I now run, to the place it is today.

"I could never have done it alone so here is a bit of a shout-out to all the people who made me into the consultant, Managing Director and colleague I am today!"
Davies says she hopes her journey through the ranks will lead to more young women pursuing careers in the property sector.
"Being a young woman in the built environment sector is not easy, nor is delivering growth in the post-pandemic economic uncertainty we have been experiencing," she says.
"Recruitment continues to be our biggest challenge – specifically recruiting the right mix of people with the right skills. However, I hope I can help inspire other young women to lean-in to their careers and realise their potential."