Ensleigh, Bath
IM Land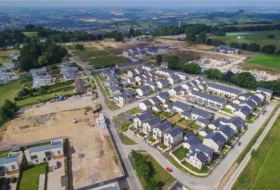 Scheme
Located within the boundary of the World Heritage City of Bath, adjacent to Cotswold AONB, this former Ministry of Defence site is now a thriving new community on the outskirts of the city. IM Land in partnership with Bloor Homes and Linden Homes have delivered new homes in addition to a shop and a primary school for those settling in the area.
Strategy
The redevelopment of the site had broad political support from the local authority, who had prepared Concept Statements for the delivery of new homes on the city's three former MoD sites. However, a number of contentious issues were still to be determined and we were engaged to manage these.
It was imperative to engage with Bath's vast array of heritage-lobby groups, to understand their aspirations for the site and the design approach. A series of briefing documents were sent to political stakeholders throughout, alongside presentations and briefing sessions.
In particular, Meeting Place worked closely and maintained a personal dialogue with ward members to manage the aspirations of the wide range of political stakeholders involved. After a successful period of community engagement, where broad support was indicated for the consortium's plans, the next objective was to find a way to deliver the aspiration for a new primary school without compromising the development potential of the site.
Outcome
After a unanimous resolution to grant planning was achieved at committee, the ward member gave a rousing speech in support of the development, praising the collaborative approach throughout.
The defining issue became the Section 106 funding mechanism for the delivery of the primary school. Meeting Place entered into in-depth discussions with Bath and North East Somerset Council members to explore potential options for the delivery of the primary school, involving a high-level discussion with cabinet members, the Council Leader and officers and round table discussion with members and officers.
At this point Meeting Place entered into a discussion with the Council Leader, providing the catalyst for internal discussion. This culminated in a written confirmation from the Council Leader to Meeting Place that the delivery mechanism had been established and the Section 106 agreement could be signed. Construction at Ensleigh is now complete and the development is widely regarded as one of the most sought-after new build developments in the city.
Located within the boundary of a World Heritage City adjacent to AONB