Paytherdon, Devon
Lightrock Solar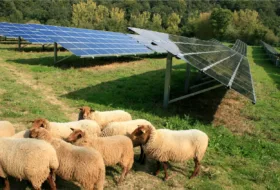 Scheme
A new 49.9MW solar farm near Clyst Hydon in East Devon has the potential to deliver power to 15,000 homes. The wildlife focused project worked with the RSPB and other ecologists to create new habitats including foraging opportunities for barn owls, otter holts and improvements to the banks of the River Clyst for water voles.
Strategy
As well as a dial-shifting 200+ letters of support secured on the planning portal by breaking down barriers that exist for people to support and facilitating a grassroots community-led campaign, we used our local knowledge and connections to ensure members were properly briefed ahead of committee and that speeches made to the committee were as compelling as possible. We also engaged local and trade media to ensure coverage positively framed the plans.
Outcome
The application was approved by East Devon Councillors.
200

formal letters of support

15,000

homes provided with solar energy

Worked with the RSPB and other wildlife organisations to support barn owls, otters and water voles