Wickham Hall, Hertfordshire
Endurance Energy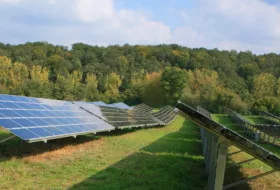 Scheme
A new 35MW solar farm – the first in East Herts - this site was originally much larger and split across the East Herts/Uttlesford border. After a refusal by Uttlesford, the plans were altered and focussed solely in East Herts.
Strategy
Meeting Place undertook a thorough programme of pre-application community consultation with the local community.
Our engagement strategy saw engagement with residents neighbouring the development site and local stakeholders.
Meetings were held with key stakeholders to further understand their thoughts on the proposals and to have their questions answered by the project team. These conversations were productive and useful, with their feedback being incorporated into the overall design of the scheme.
Over 1,700 households and businesses received a newsletter inviting them to the visit the consultation website and provide feedback. It also encouraged residents to sign up to an online presentation that displayed the proposals and provided an opportunity for residents to raise their questions directly with the project team.
The online consultation website was updated throughout the consultation and enabled members and the local community to submit feedback throughout the design process.
Over 63% of those who responded to the consultation process supported the proposals for a new solar farm on land at Wickham Hall. This is an extremely high level of support for a planning application and shows both the appetite for the scheme to come forward as well as the positive sentiment towards a renewable energy scheme of this kind.
Outcome
After the application was submitted, revisions were made to the scheme which led to additional post-submission engagement being undertaken.
This included a site walkabout with a local journalist, social media adverts and a market stall at Bishop's Stortford market.
The subsequent post-submission engagement produced even higher levels of support with 96.2% of the responses to the social media advert campaign being in favour of solar farms and the proposals at Wickham Hall.
At the Bishop's Stortford market stall event, 95% of those who completed a feedback form were supportive of the plans.
In total, over 200 comments of support have been registered on the planning portal, and the application was approved by 12-1.
10,000

homes powered by renewable energy annually.

95% of those who completed a feedback form at the market stall event were supportive of the plans.

Increase in biodiversity by 82%.

10,000

new trees and 2km of hedgerow.

Engagement with schools to assist with education boards on the new walking routes.