Beam Park, LB Havering, LB Barking & Dagenham
L&Q and Countryside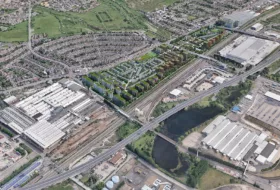 Scheme
The redevelopment of the 29-hectare former Ford site spans the boroughs of Barking and Dagenham and Havering. The proposals will deliver almost 4,000 new homes, a proposed new train station, two primary schools, a health centre and community facilities on the site which sits alongside the River Beam.
Phase 1 and part of phase 2 are on land in the London Borough of Havering, with the remaining phases on land in the London Borough of Barking and Dagenham.
Strategy
The engagement process had to be carefully considered given that the application boundary spanned two different local authorities with significantly different priorities. Clear messaging was established from the outset and aligned with the Councils' own priorities and policy wherever possible, to ensure that a robust case could be made to the leadership and members in both authorities.
Considerable engagement was undertaken with the local community, resulting in significant levels of support being identified and presented to local authority members. Given that 50% of the site would be accessible open space and that infrastructure improvements included elements such as the new train station, significant weight was given to the public realm and transport improvements during engagement, resulting in further support from local residents.
Outcome
Residents have now begun moving into phases 1 and 2 of Beam Park, with a masterplan for the remaining phases due to be determined.
£1bn

regeneration scheme

2nd

largest planning consent in England in 2018

The development won the 'Best Use of Publicly-Owned Land' category and was Highly Commended for 'Planning Permission of the Year' at the Planning Awards 2020

Beam Park was awarded 'PRS Deal of the Year', celebrating an innovative PRS deal with Be First and Sigma.