Thames Valley Science Park, Wokingham
University of Reading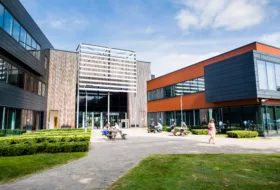 Scheme
The University of Reading has ambitious plans to develop land South of the M4 in Shinfield for major employment uses including a new science centre, film studios and start-up office space. Thames Valley Science Park was planned to support the academic ambitions of the University.
Strategy
Meeting Place delivered a comprehensive stakeholder engagement and community consultation during the planning, construction and opening of the new facilities. Consultation took place during every phase, with events being held in the heart of existing communities.
We worked closely with local parish councils in the area to address their concerns and put forward a proactive strategy to mitigate any issues. The support of the political leadership of Wokingham and Reading Council was gained through sustained briefings.
Outcome
Thames Valley Science Park is now flourishing with high-profile pharmaceutical companies looking to take space. In addition, projects such as the new Shinfield Studios, the British Museum Archaeological Research Centre, Rutherford Cancer Treatment Centre are in the process of being developed.
80 growth-oriented companies have taken up tenancy