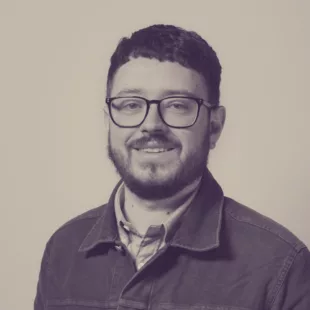 George Arnold
Design Lead
George works with the Design and Digital team at Meeting Place. He has extensive experience in the field of branding and print design, having worked on multiple types of projects from lifestyle magazines to marketing materials over the years. George has a keen eye for typography, layout and contemporary design.
Graduating with a First class honours in Graphic Design from the Arts University of Bournemouth. George works on a wide variety of communication documents, taking the design and digital offering of Meeting Place to a higher and consistent standard since joining in February 2022.
George is a keen home pizza maker and loves to make pizza for his family, experimenting with different flavours or cooking the classics. He can also can be found on the terraces of Bristol City's Ashton Gate on a Saturday.
Contact George
We're the Meeting Place

of deep knowledge
and creative thinking.
And we want to

hear from you.
Speak to our team on
0117 428 6873