Made to measure – people and things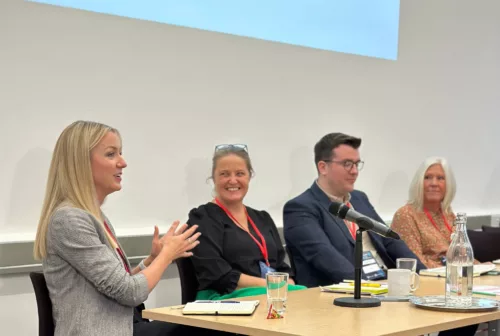 Social Value UK's MemEx 2023 was a tale of two halves. It was clear that everyone in the room cared about people and delivering tangible outcomes. It was also universally acknowledged that the industry is currently only good at measuring the social impact of things.
The day started with a rallying cry from Cllr Bev Craig, Leader at Manchester City Council, demonstrating the power of local government to deliver change when we mandate social value within contracts.
Cllr Craig spoke of the brokerage system they have in place within Greater Manchester to help organisations deliver social impact, providing paid staff to help connect schools, community groups and organisations and taking the pressure off overstretched services.
Many of the speakers focused on the social impact surrounding delivering skills and training, noting that 'not all work is good, but good work leads to better lives'.
Often, jobs, schools, workshops and apprenticeships are things we can measure. The next step for the industry will be focusing on the stories and outcomes of the people who step into these new roles. We must ensure we are incrementally improving people's lives, rather than simply shifting values from one box to another.
Meeting Place Managing Director, Nikki Davies also challenged the current value-centric approach. To deliver meaningful impact we must get under the skin of a place and look at what communities actually need. Only when we give all members of a community the power to influence their local environment will we see good things being built.
Conversations in the afternoon turned to data and 'measuring for improvement and understanding, rather than simply for measurement's sake'. With so many practitioners in the room there was bound to be multiple approaches to how we should gather and record information and, ultimately, what we should do with it.
The key takeaway for us was that gathering data is better than not gathering data, but it shouldn't be something we obsess over and become overly prescriptive with.
Knowing your population deeply, having clear priorities and corroborating your approach with data were all demonstrated as ways of moving forward and doing better. This allows social impact to become a decision-making tool rather than a number on a page that aims to impress people.
We should be open and honest with communities about why we are asking them specific questions. We should also have the courage to report on the negatives and use them to grow, adapt and change.
The main reflections from MemEx should be ones of positivity. There was passion in the room, and it was evident from the debates, conversations and case studies shared. Aspiration was not shied away from, and it was clear that delegates felt it was better to have tried and failed than not pursued a better approach.
The industry is turning away from imposing things upon a place, and instead working with people to determine what will have the greatest long-term impact.