Engaging communities inclusively using digital tools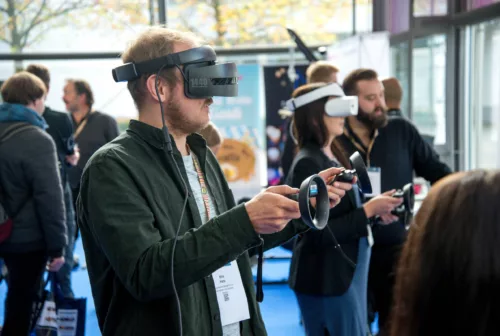 In August 2021, DLUHC launched the PropTech Innovation Fund to support local authorities across the country to accelerate their widespread adoption of digital citizen engagement tools and services within the planning process to make it more inclusive and accessible.
The second round of funding was assigned in March 2022, and the DLUHC Digital Team and LAs recently showcased their achievements in an online event highlighting emerging best practice and lessons learned on using digital engagement in planning consultations.
Below are my key takeaways from the discussion:
Community knowledge is key
As the online discussion centred around engagement, the community was of course the main topic. Often considered only as the final user of new developments, this faulty perception of the local community can lead to late engagement, delivered as a box-ticking exercise contributing to the lack of trust in the planning sector. Local groups, instead, hold tremendous knowledge and deep insight into their local area that can and need to be tapped into to co-produce better engagement strategies. Epsom and Ewell Borough Council used their DLUHC funding to co-design alongside the local community an online questionnaire with general and site-specific questions that informed the new master plan for the town centre.
Fostering trust through digital engagement
As mentioned above, trust is a big issue within the planning sector, with a 2019 Grosvenor survey into public trust in large-scale development showing that just 2% of the public trust developers and only 7% trust local authorities.
Local Authorities who won the second round of DLUHC funding learned that digital tools, social media and early engagement strongly contributed to a better sentiment toward planning.
Trust also needs time and space to develop, and this is the primary reason engagement with local communities should start early and be ongoing, to enable residents to build knowledge of a scheme over time and familiarise themselves with it through learning about its key milestones.
Watford Borough Council crafted an engagement strategy with the aim to improve the community's sentiment towards planning and involve them in the decision on how to spend the Neighbourhood CIL. The Council used Facebook to ask residents groups for their views and an online platform named Neighbourhood Grant was created with a link to Council's planning brought up later in the engagement strategy.
The online platform was launched at first with its own identity, thus enabling the Council to show developers' contributions and positive impact on the local community. Watford Borough Council's engagement strategy received nearly 2,000 individual responses and improved the local groups' sentiment toward planning services.
Keep it accessible
We spend an average of 4.8 hours a day on our mobile phones – a critical statistic to consider when designing digital content, which should be mobile-friendly.
QR codes to access consultation materials emerged as a best practice. Translation of content into other languages or enabling translation tools also increases the accessibility of minority ethnic communities – and those who don't speak English as their main language. Avoiding the use of sector jargon also helps to demystify the planning process.
Probably unsurprisingly, social media ads and virtual reality have proved to be excellent tools to engage with the younger audience, with Cornwall Council's 3-day in-person public consultation events using virtual reality tools registering a 36% of engagement with young people aged 24 and under, against a baseline survey of 4% over three weeks.
Real-time reporting is a beneficial feature of digital tools that enables on-the-go change of strategy to avoid missing the targets. Digital engagement tools also facilitate data collection and analysis, saving time in the process.
Overall, going digital has contributed to creating a better sentiment towards planning and new development – using social media to engage, 3D models and virtual reality helped to visualise the new development and prompted conversation around it.
Nonetheless, hybrid engagement emerged as a best practice, as digital exclusion is still a reality and not all audiences felt at ease around digital tools.
In closing, using digital tools in your engagement strategy can deliver long-term benefits, increase engagement and outreach and help to deliver better democratic place-making.