Taking a punt on social value in Cambridge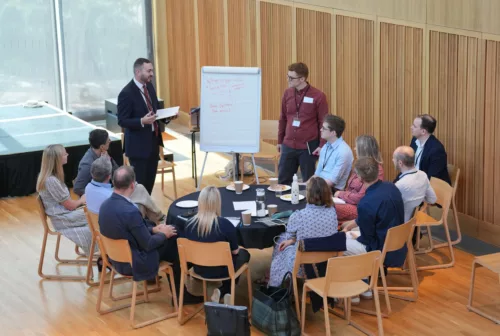 It's been six months since our symposium in Bristol and our call to the government to 'level the playing field' on social value.
Since then, it's encouraging to see a recent report which showed the industry's impact, which generated over £1 billion of social value last year.
Although the national trend is moving in the right direction, we wanted a more granular look, comparing Bristol with another city, which – although on opposite sides of the country – share similarities when it comes to social mobility and wealth inequality.
Home to world-leading businesses and dubbed the UK's 'next Silicon Valley', investment into Cambridge and its built environment is febrile, to say the least.
However, behind the tourist's rose-tinted view of punting and the world-class university, lies areas of chronic deprivation in a city once described as the UK's most unequal.
Our Cambridge symposium – alongside event partners Hill, Places for People and Socius – was a chance to compare and contrast, share industry best practice and ultimately, gain a better understanding of how to tackle the imbalance.
Take a look at our event video.
Bringing together private, public and third-sector leaders, the event looked closely at how Cambridge can work together to redress the gulf between its haves and have-nots, by delivering social value with clout.
Given the City Council's priorities and SCDC and CC's own social value policy, it's evident the approach is one of the City's most pressing political objectives.
But despite this, there were certainly inconsistencies in the room when it came to delegates' understanding of just how social value can impact communities…
Cambridge Council's own aspirations on social value provide a good summary of the opportunity:
"We want Cambridge to be an ethical city, and one which ensures that growth benefits everyone, building wealth within our communities, encouraging skills development, and finding a way out of poverty for as many people as possible."
We've gathered together insight from the symposium discussion, to better understand how the city can achieve this by taking a PUNT on social value…
P – procure properly
U – understanding and adaptability
N – needs analysis
T – trust and accountability
Procure properly
The room was aligned with an appetite for embedding social value should from the get-go, which should form a pivotal part of the tender process.
Although social value has been embedded for over ten years, delegates felt authorities could be more prescriptive when it comes to incorporating it into Local Plans to deliver on targets and it's evident to see Cambridge paving the way.
However, most agreed there should be more transparent discussions between private and public stakeholders to ensure social value is both realistic and proportionate within the local context.
As an example, we heard from Hill about a supply chain charter it has implemented, which ensures the wider suppliers the business works with adhere to and align with its social value aims.
Understanding and adaptability
Delegates felt developers could do more at immersing themselves into and better understanding communities, whilst being mindful of broader demographic and societal changes.
For example, a project's social value approach may need to change to keep pace with external factors, such as inflation, the cost of living crisis, or the war in Ukraine.
Given Cambridge City Council doesn't have a specific individual or team solely dedicated to social value, it was commented that the industry should work closely alongside the public sector, to upskill councillors in their understanding, helping to empower them whilst also embedding best practice.
In this regard, it was noted that there is a greater demand for communicating the qualitative aspects of delivery, such as sharing real-life stories and community impact to improve understanding.
Needs analysis
The room agreed the sector must consult with stakeholders and especially residents, to gather their input and buy-in for social value; integrating with what's there, rather than parachuting into communities.
The symposium heard about a range of best practice examples, including from Alex Rossiter from Cambridge Ahead partnership, about Cofarm – an agroecological community farm run by the community in Abbey, on one of the city's most deprived wards.
We also heard from Hill about an orchard project in the city, where apples would be harvested and pressed into cider by the community themselves. Two examples of projects which are making a local impact.
Trust and accountability
Close collaboration between private, public and third sectors is vital to maximising impact – ensuring social value is properly measured and communicated consistently will do a lot of heavy lifting to engender this mutual trust and understanding.
Engaging early on in the process, but also passing the baton of projects on to future occupiers, will be key for demonstrating stewardship and making a real impact.
It's imperative that social value is accountable with simple and consistent measurements and reporting, which will go some way to levelling the playing field.
However, some delegates aired resistance to the idea of making the process too prescriptive in the planning process; for fear of it becoming overly bureaucratic.
An example of mutual trust came from Chris Jenkin at It Takes a City, a homelessness partnership in Cambridge, which received council and government funding to accommodate at-risk rough sleepers over the winter months.
We'll have to wait and see whether the city can make inroads in redressing the parity between Cambridge's haves and have-nots, but events such as this are a great way to kick off conversations, put faces to names and get the city talking about what best practice looks like.
We'll be taking another look at social value later in the year when we take our social value roadshow to London… Watch this space!