Social value in Somerset: delivering more than just homes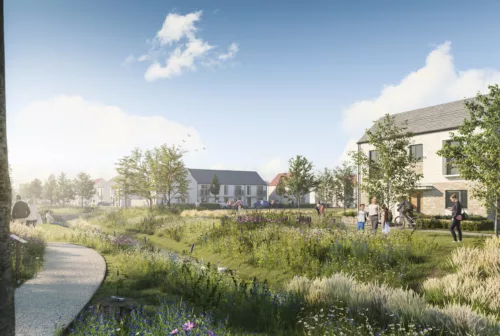 It goes without saying the built environment can produce a wealth of social value for communities across the UK.
Realising the built environment's potential as a catalyst for positive change is something we champion and support our clients with here at Meeting Place.
Back in 2017, North Somerset Council achieved planning consent for 700 homes at Parklands Village.
For the first phase of this development, the council recently signed a build lease agreement with Keepmoat Homes, to deliver 425 new highly sustainable homes at the site, near Locking, Weston-super-Mare, North Somerset.
The plans will bring much-needed affordable housing to the area, as well as adaptable and accessible homes for people with mobility issues.

Keepmoat Homes asked Meeting Place to create a social value strategy for procurement, to celebrate the impact the new proposals will bring.
We produced a 'social value and community engagement strategy' to supplement the procurement process, which showed the council how Keepmoat Homes will deliver social value through every element of the construction, development, and community and place-shaping process.
Among these initiatives are the creation of at least 20 apprenticeships as well as ongoing career events in the area, and the funding of local volunteering and biodiversity projects. Reconciling community engagement with Keepmoat Homes' social value ambitions ensured they could demonstrate to the council not only what would be done, but also how and why.
Meeting Place weaves social value through all of our work. We have supported different clients in identifying opportunities to deliver positive social impact, exploring local needs to ensure we can deliver such impact in the most appropriate way and supporting through procurement.
Using the built environment as a catalyst for positive change is not only possible, but very much a critical need. Seeing not only developers, but councils go to great efforts to prioritise and, importantly, deliver social value shows that it is becoming an increasingly prominent part of the planning process.