Back to the future for the future of Bucks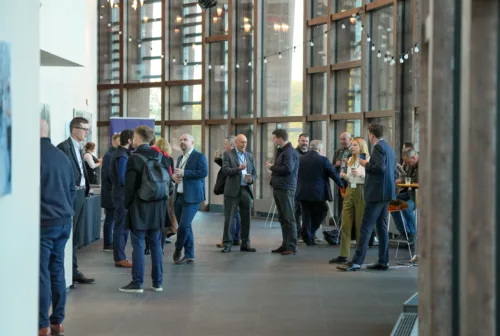 Buckinghamshire's Local Plan, Housing Strategy and Town Centre Regeneration plans took centre stage at the Aylesbury Waterside Theatre this week, where Meeting Place had the pleasure of hosting the Future of Buckinghamshire panel event.
Welcoming a range of key representatives from across the industry, the event presented an opportunity to hear from senior Buckinghamshire Council Cabinet members Cllr Peter Strachan (Cabinet Member for Planning and Regeneration), Cllr Rachael Matthews (Deputy Cabinet Member for Town Centre Regeneration), and Cllr Mark Winn (Cabinet Member for Homelessness and Regulatory Services), to discuss their vision and long-term aspirations for the county.
Meeting Place's Social Impact Lead, Ruth Skidmore, helped to set the scene with key facts and figures unique to the county, highlighting some of the key characteristics and issues it faces, such as Bucks' comparatively ageing population and a significantly above average median house price to salary ratio.
With the council's Housing Strategy currently out for consultation, Cllr Winn outlined the vision to deliver "a strong housing offer that provides affordable, accessible, and suitable choice for all life stages'.
There was significant recognition of Buckinghamshire's current demand for affordable housing schemes, with 7,000 households currently on the council's waiting list, with a particular shortage of one-bedroom affordable homes and larger four and five-bedroom family homes. His message on older people was that he would rather homes be built for life-long living, preferring those over care homes.
Commenting on Ruth's findings on median house prices, Cllr Winn outlined challenges presented in terms of the county becoming increasingly unaffordable not only in terms of house prices, but also in the rental market.
Energy efficiency was also a key concern, particularly considering the need to reduce carbon emissions and the increasing government requirements to help push the housing sector towards that goal.
Cllr Matthews led on town centre regeneration, lauding the work already undertaken in Aylesbury, Wycombe and Chesham to breathe life into town centres, as well as the council's ambitious regeneration plans.
She was clear on the major opportunities presented by Buckinghamshire's town centre brownfield sites; repurposing existing buildings rather than complete demolition. The council currently owns 11 acres of strategic land in built-up areas of Aylesbury, and Cllr Matthews was happy to declare the council open to working with development partners to deliver on those sites.
Last, but by no means least, was Cllr Strachan, leading on the council's Local Plan process, which is currently looking at adoption in 2026/27. Cllr Strachan noted the inherent challenges in delivering a county-wide Local Plan, as opposed to at a District or Borough level, not least due to the north of the region having to deliver a higher proportion of sites, given the constraints of extensive AONB and green belt in the south of the county.
The floor was then opened to questions from the 30+ representatives from across the industry, with topics including the benefits of providing age-appropriate housing options for older people such as integrated retirement communities, the benefits and challenges of being a new unitary authority, and having homes fit for modern working patterns.
It was clear from members of Buckinghamshire Council's Cabinet that collaboration with the built environment industry is an essential component in solving the county's major challenges moving forward, ensuring housing remains affordable to local people of all ages and is delivered in a sustainable way that helps communities prosper.
With the 'Strategic Approaches Consultation' due to launch in early 2024 and at least two years until the publication of a draft Local Plan, we are currently at a key time to get involved in the conversation regarding the future of Buckinghamshire.
The event undoubtedly helped to kick off a vital relationship between local developers and the council, and we look forward to hosting future events to strengthen this partnership.
If you are interested in attending future events, please let us know at hello@meeting-place.uk