Supporting community-run businesses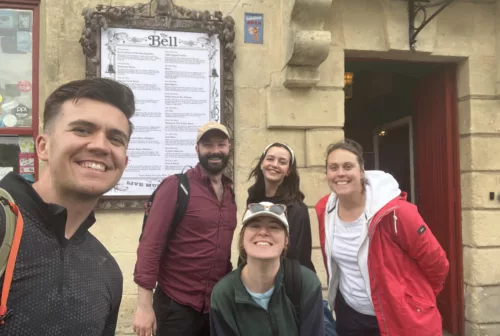 On Friday 12th May, our teams headed out for an afternoon to take part in the 'Walk for Plunkett' fundraiser, the Plunkett Foundation's annual charity walk to support rural local businesses.
At the time of writing, the campaign raised over £7,000, with Meeting Place's fundraisers contributing towards that total!
Six members of our South West team undertook a mammoth 26km walk from All Hallows in Bristol to the Bell Inn in Bath, whilst a South-East team of five, which I was part of, enjoyed a more gentle 10km walk around Woodgate, Pease Pottage, Thakeham's exemplar development, in West Sussex.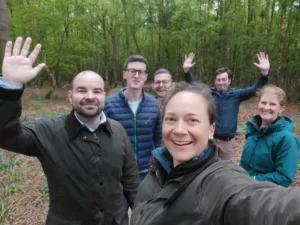 Enjoying five laps of Woodgate's walking route, we took in the wonderful new community at the site, which Meeting Place had helped to secure the original planning permission for. It was inspirational to see the possibilities of what neighbourhoods can look like and made me proud that Meeting Place had played a small part in the delivery of it. We even got a chance to look around one of the amazing showrooms which doubled up as a nice break mid-walk.
There was already a clear sense of place and community emerging, particularly helped by the Woodgate Hub, which Thakeham recently gifted to the community – a shop and café, run by local volunteers and supported by the Plunkett Foundation.
This highlights the vital work that the Plunkett Foundation does in facilitating small businesses at the heart of local communities, particularly at a time when many small businesses may be struggling through the cost-of-living crisis.
These small businesses give local people a sense of ownership and direction over their communities, creating more cohesive neighbourhoods and providing important services within walkable distances, without having to travel into larger towns or cities for vital amenities.
This is especially important in new build developments like Woodgate, with the wider community hub providing a focal point for new neighbours to bond around and connect.
The Plunkett Foundation undertakes vital work to champion community businesses and we're proud to support them as our charity of the year, which included volunteering at the Westbury Community Shop and Café.
Click here for more information on the Plunkett Foundation, to find out how it helps local communities to thrive and businesses to survive and grow.