How flexible working can foster inclusivity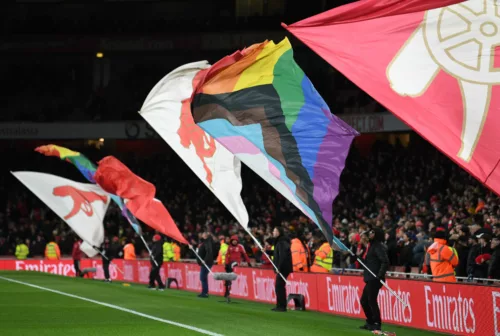 Inclusivity is one of Meeting Place's core company values and Pride Month feels like an apt time to explore how the company puts that into action.
With people from all different backgrounds in our company, inclusive working practices are key to make people feel at home and comfortable, ensuring we can thrive as a group whilst maintaining our own individual identities.
A critical way in which Meeting Place helps to foster this inclusive environment is ensuring our employees can pursue their interests outside of work.
Our flexible working policy means we can work non-traditional hours in the week as long as we remain accessible to others if needed. This is a huge benefit to many, with some outside activities often falling within traditional hours so we can take time out of our working day to address those with no questions asked and just work later (or start earlier) that day instead.
I am currently the Campaigns Officer for Arsenal Football Club's Official LGBT Supporters' Club (known as GayGooners), a voluntary role I would not be able to fulfil without Meeting Place's flexible working policy, helping me to pursue a role which promotes inclusivity at the club and within our workplace.
GayGooners was officially founded in 2013 and is the oldest football supporters' club of its kind in the world, as well as the biggest in terms of members.
I joined in early 2018, as a very nervous 18-year-old looking for a group of football fans I could feel comfortable in my own skin with, which certainly was the case as I travelled with the group later that year to Spain to watch our (sadly unsuccessful) Europa League semi-final against Atletico Madrid. In October 2022 I took the step up to join the committee, getting elected as Campaigns Officer.
We are predominantly a social club for LGBT+ fans, hosting pre-match meetups for Home and Away games for both the men and women teams, but the nature of football not always being the most open for LGBT fans means we often delve into the campaigning and advocacy side both internally with Arsenal and externally with the wider football world and beyond.
My Campaign Officer role falls into this – working with Arsenal to ensure the fan experience is welcoming for our members, especially amidst a rise in homophobic chanting across the UK, and to organise events with them throughout the year to mark the LGBT+ calendar.
For LGBT+ History Month (and to also mark our group's 10th anniversary) in February, we organised a five-a-side tournament with other Arsenal supporter clubs at the stadium and I even got to do a pitch-side interview before our home match against Brentford, meeting our captain Martin Odegaard too!
I am currently deep into planning for our participation in London Pride in July, organising our bus and pre and post parade events with the club, which will hopefully involve some special guests too.
Externally, our group has become a strong voice in representing LGBT+ football fans in a difficult global environment, with FIFA's reluctance to take LGBT+ issues seriously a key factor in our drive to speak out. I spoke with various news outlets during the Qatar World Cup and was even a guest on Iain Dale's LBC show to discuss the tournament, with members of our committee also organising a protest outside of the Qatari Embassy.
Much of the organisation for all of these wouldn't be possible without the support of Meeting Place through the flexible working policy, given that many meetings with Arsenal and other organisations take place during the day. I was even able to finish work early one day at late notice to drive up to Manchester for an FA Cup game this season, particularly in supporting our members in the North-West who we had helped get tickets to the game.
We have come a long way since the group started in 2013, and I am proud to have played a very small part in it, with a continually growing membership now beyond 1,500 people and an increasingly welcome environment at Arsenal for LGBT+ fans like myself who did not always feel comfortable to be themselves in a place many of us including myself feel is a second home. This was not always the case and there continues to be challenges but we are on a good path to inclusivity.