Glenvale Park, Northamptonshire
Midtown Capital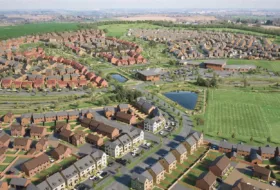 Scheme
Midtown Capital is the master developer behind a new 3,000-home community at Glenvale Park in Wellingborough. We are retained to raise awareness and positive sentiment of the development among residents, homebuyers and stakeholders through a holistic PR approach – spanning events, social media, stakeholder engagement and social value.
Strategy
Our objectives for Glenvale Park are to position the development as the preferred destination for people looking to buy a home in the Wellingborough area, building a sense of community among new residents while also making sure the new development can successfully integrate with the rest of the town.
We provide hands-on support for a range of PR activities across Paid, Earned, Shared and Owned channels (PESO). From content development and media relations to social media, community engagement and event consultancy.
Outcome
As the build-out of the development continues, we have achieved a number of successes in support of the agreed objectives. Through holding a range of events, from a summer community fun day to tree planting, carol concerts, to ground-breaking ceremonies, our work has generated positive sentiment towards the development from the wider community.
From submissions we've crafted, the development was named Residential Development of the Year at the East Midlands Business Brick Awards while receiving nominations elsewhere, recognising the development's positive approach to placemaking and social value.
Through a mix of organic and targeted social media advertising, we have raised the profile of the development, generating scores of sales leads in the process. The team have also undertaken a holistic social value engagement campaign with the community to uncover ways of how the development can best meet local needs and aspirations.
Achieved awards success

Community engagement through holistic social value campaign

Broad range of successful community-events delivered

Full press office service, focusing on local, industry and national consumer media

Social media lead generation