Somerset Energy Saver Campaign, Somerset
Mendip District Council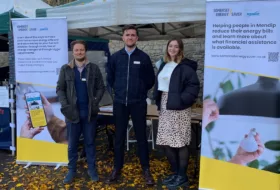 Scheme
Working alongside the housing teams at Mendip District Council and surveyors at Gleeds, Meeting Place devised and implemented the Somerset Energy Saver campaign. This holistic digital and in-person PR and communications strategy tackled fuel poverty head-on - educating residents about how they can save on their energy bills at a critical time at the height of the cost-of-living crisis.
Strategy
Our campaign website centred around a digital hub, which contains information on saving energy bills. The consolidated advice ranged from free energy-saving changes people can implement, to larger measures, such as retrofitting, in addition to potential financial assistance and grants which residents could be eligible for. Supporting PR activity included in-person events at farmers' markets, press and media relations, a targeted letter drop, advertorials, engagement with local councillors and stakeholders and paid social media adverts. The campaign launched with a press release to local media and hyper-local Facebook ads, which were supported further with banner ads on the Mendip DC website.
Outcome
Within the first fortnight of the campaign, the paid social ads reached 21,160 individuals and the website received 903 users from people living across the Mendips. The traffic delivered 44 registrations of interest - individuals who would receive tailored support and information on the financial assistance which they might be eligible for. Across two days, the farmers' market pop-ups at Glastonbury and Frome engaged with hundreds of residents across the district and coincided with a 44% increase in visits to the website.
21,000

people reached via social media ads in the first fortnight of the campaign

Engaged hundreds of residents across farmers market pop-up events