Infrastructure & Development Board, Hertfordshire
Hertfordshire Growth Board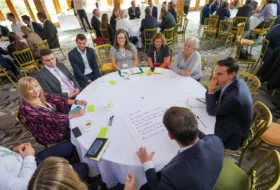 Scheme
Meeting Place was selected by the Herts Growth Board to establish the Hertfordshire Infrastructure and Development Board (HIDB).
The HIDB is a forum which creates a meaningful link between the Growth Board's constituent local authorities and the development and construction sector, with the primary aim of working in partnership to deliver sustainable economic growth and high-quality placemaking in Hertfordshire.
Strategy
Using our established private sector network we generated membership from more than 45 businesses operating in the built environment, attracting Chief Executive, Leader and Planning Portfolio Holder representation from every local authority in Hertfordshire.
Our work on the HIDB includes event organisation, speech writing for senior Hertfordshire politicians, promotional videos as well as media engagement and project management.
Outcome
HIDB meetings are structured to maximise outputs. In addition to the usual coffee and networking, we facilitate smaller workshop sessions to tackle key issues facing the sector and we report back on ideas generated with the view to achieving meaningful change.
We also include keynote speaking opportunities for officers, providing them with a mechanism to report back on any news from their authority. The HIDB has borne initiatives such as a mentoring scheme aimed at sharing best-practice between the private and public sectors and also subsidiary, issue-specific conferences such as the Planning Resilience Symposium.
More than 45 private sector organisations joined as members

Mentor scheme launched

Keynote speeches from council leaders and MPs

A suite of promotional images and videos produced