Woodgate, Sussex
Thakeham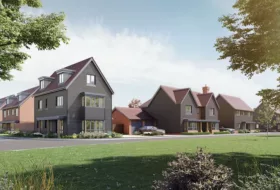 Scheme
With its village green and an ethos of living close to nature at its heart, as well as superb connections from its mid-Sussex location, Woodgate is an exceptional new build development in Pease Pottage.
A collaboration between renowned independent housebuilder Thakeham, and Abri, one of the largest providers of affordable housing, Woodgate is also remarkably well-served, from a new state-of-the-art school to a village shop, café, and community hub.
Strategy
The site, which is located in an Area of Outstanding Natural Beauty, attracted opposition from a number of stakeholders, including neighbouring councils and Natural England.
We designed a two-part consultation strategy, one for near neighbours and one for St Catherine's Hospice supporters, appreciating that both audiences had different interests in the scheme. Through our consultation we built up a significant database of supporters and we worked hard to encourage their voices to be heard.
Outcome
Significantly more letters of support were submitted to the council than those in opposition. In advance of the scheme's determination, Meeting Place found a supporter to speak at the planning committee.
We also arranged for supporters to attend the committee wearing coloured ribbons as a visual show of support for the plans. The scheme was unanimously approved and Woodgate is now one of the most sought-after locations to live within commuting distance of London.
15

Active supporters turned up to committee

Largest approved new development in AONB