Westhorpe Gardens and Mills Grove Estate, LB Barnet
Metropolitan Thames Valley Housing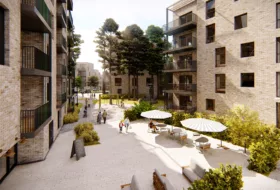 Scheme
MTVH proposed significant improvements for their site at Westhorpe Gardens and Mills Grove in the London Borough of Barnet. This involved the re-provision of the existing 102 socially rented homes alongside the delivery of 77 new retirement living units and up to 80 new homes in a mix of tenures.
Strategy
Meeting Place undertook an extensive programme of community consultation which considered the Mayor of London's 'Guide to Estate Regeneration' as well as the 'Better Homes for Local People' guidance. With those in mind, Meeting Place set out to engage with all existing residents across the estate through a series of design drop-in events and resident newsletters.
Meeting Place was also in contact with local political stakeholders throughout the consultation process to ensure they were fully briefed on the plans. Further work was undertaken including a wider public consultation, as well as conducting a Resident Ballot.
The Resident Ballot was the first successfully undertaken of its kind under the Mayoral funding guidance. Meeting Place drafted the Landlord Offer document and took the lead on all liaison with the independent scrutineer throughout the voting process. An extensive programme of door-knocking was undertaken to ensure all residents had the necessary information and any concerns were immediately addressed.
Outcome
The work undertaken by Meeting Place ensured residents on the estate supported the application. The voting across the estate resulted in a 75% yes vote returned with a 66% turnout amongst eligible voters.
The plans for the estate were determined by LB Barnet in July 2019 and the application was approved by the committee. Meeting Place is delighted that the consultation and engagement programme for Westhorpe Gardens was nominated for Planning Campaign of the Year at the 2019 PRCA awards.
The first Resident Ballot ever to take place in London

Nominated for Planning Campaign of the Year at the 2019 PRCA awards

75%

of residents voted in favour of the proposals