Gammaton Moor, Devon
Lightsource BP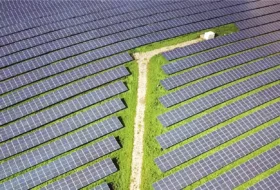 Scheme
Lightsource BP's plans would deliver a new solar farm near Bideford, Devon. As well as generating energy for over 13,000 homes, the plans included over 1km of new native hedgerow planting, the retention of the ability to graze livestock on the site and a biodiversity net gain of over 55%.
Strategy
By engaging with political stakeholders at a local level we were able to offset their concerns which included changes to the environment, overlooking and noise from traffic. We created an engaging briefing document for members of Torridge District Council's Plans Committee which highlighted the benefits of the scheme. Generating renewable energy whilst supporting the surrounding environment enabled us to respond to the climate crisis and the ecological crisis simultaneously.
Outcome
The application received unanimous approval at committee and in spring 2022.
55%

biodiversity net gain

Solar energy to power 13,000 homes

Over

1km

of native hedgerows planted