Temple Island, Bristol
Legal & General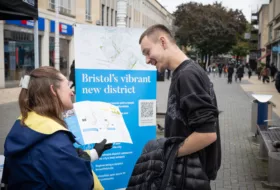 Scheme
Meeting Place is providing strategic communication support to Legal & General (L&G) on the landmark redevelopment of the Temple Island site in Bristol city centre.
On a contentious site, that had formally been earmarked for the city's arena, Meeting Place initially supported L&G with strategic counsel, stakeholder engagement and media relations as the proposed land agreement went through Bristol City Council's governance processes.
Following a series of council meetings regarding the proposed deal, the land agreement was supported by Bristol City Council's Cabinet in February 2020. Meeting Place is now leading a three-phase community engagement process to support the creation of the plans.
Strategy
The multi-channel exercise, including the use of our bespoke mapping tool, social media, virtual briefings and on the ground in-person engagement are inspiring people to engage and making it as accessible as possible to do so.
The recent launch of the second round of community engagement has included a series of pop-up events at several Bristol locations, including Temple Quay, Bristol Temple Meads train station, Totterdown Tesco car park and Broadmead to answer people's questions about the plans and hear what people think about what's being proposed.
A newsletter and feedback form were sent to local residents and an online survey was launched to gather feedback from people across the city. This consultation is live and will run through to mid-November at which point all feedback received will be gathered and taken into consideration ahead of the final phase of engagement and outline planning being submitted next year.
In addition to this, stakeholder engagement activity most recently took the form of a councillor site visit at the Temple Island location, which was attended by various councillors from key wards across the city.
Outcome
This is one of the most significant projects in the regions. We're successfully creating a coalition of support with a wide variety of political, community and business stakeholders.
Related links
Creating more than 2,000 jobs

Up to 500 new homes with a target of up to 40% being affordable

An investment of over £300 million in the city