Soapworks, Bristol
Socius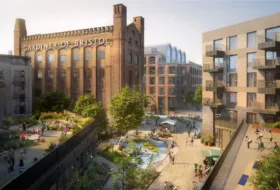 Scheme
Right in the heart of Bristol, Soapworks will celebrate the city's industrial past and creative culture with a mix of retail and commercial space, vibrant independent food and drink businesses, new homes and public space improvements.
The iconic Grade II listed former Gardiner Haskins warehouse will be restored and rejuvenated and set alongside two new buildings within the new sustainably developed mixed-use district for the city centre.
Strategy
We delivered on a comprehensive stakeholder engagement, community consultation and proactive media management programme.
A two-stage consultation process utilised a variety of face-to-face and online consultation methods using our 'take it to the people' approach including street stalls, online surveys, meetings with community groups and proactive media engagement.
Through the consultation more than 220 residents attended the engagement events; nearly 6,000 local people responded to the online surveys; the project team met with more than 30 local stakeholders and representative groups; and 83% of residents supported the redevelopment plans in principle.
Outcome
Plans to redevelop Soapworks were approved by committee and construction is now underway. The consultation and engagement programme for the project was nominated for Planning Campaign of the Year at the 2020 PRCA awards.
83%

of residents supported the redevelopment plans in principle

220+

residents attended the engagement events

6,000

local people responded to the online surveys