St Marks, Lincoln
abrdn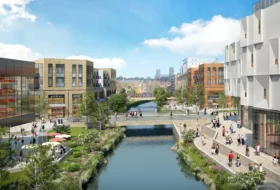 Scheme
St Marks is a £150 million development which will create new retail and leisure space, purpose-built student accommodation, a hotel, increased car parking and cycle parking, and open up the river Witham corridor to create a vibrant and modern feel to this area of city.
Strategy
As part of our engagement strategy, we launched a dedicated website, briefed the press, wrote and met with ward councillors, met with the local MP, presented at a private session with councillors, and held an invite-only session with key stakeholders such as local business groups and heritage organisations. We held a pop-up event at the University campus and a full-day public event in a retail unit in St Marks.
The public consultation was promoted in the press, with posters on site, and by newsletters delivered to the 1,000 addresses closest to the site. In total we received more than 300 visitors and received around 250 pieces of feedback on the proposals – 89% of which were supportive.
Following the submission of the outline application, we continued to engage with stakeholders and issued a summary briefing to Lincoln City Councillors showing the high levels of public support. A second briefing was issued to councillors focusing on changes made as a result of the consultation and outlining areas of support from specific stakeholders. These briefings were issued in tandem with targeted press work to ensure a continued high level of positive coverage about the scheme.
Outcome
The scheme received near unanimous approval and commendation from the Chair of Planning Committee on the conduct of the project team throughout the process.
89%

of feedback received was supportive of the plans

Received commendation from the Chair of Planning Committee on the conduct of the project team