PHE Harlow, Essex
Public Health England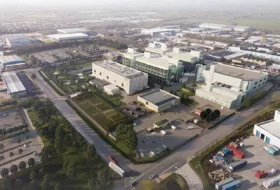 Scheme
PHE Harlow will be Public Health England's (PHE) future, world-leading campus and headquarters. The creation of this new centre of national and international scientific expertise is critical to ensuring PHE can continue protecting and improving the nation's health.
The 40-acre campus is large enough to co-locate most of PHE's services from Porton Down, all of those from Colindale, as well as the headquarters in central London. A site of this size will allow PHE to bring together a critical mass of scientists and knowledge that will strengthen research potential and the ability to improve and protect public health.
Strategy
Meeting Place devised a comprehensive programme of engagement with residents, stakeholders and the media, including community outreach with local schools, societies and civic organisations. Consultation included participation in local community events, where a PHE stall would inform and engage attendees about proposals, while also introducing residents to the work the agency does.
The engagement programme also included reaching out to faith groups. PHE met with representatives from twelve different faith organisations at a meeting of the local interfaith network, which resulted in specific invitations to speak at meetings of local Muslim and Jewish communities. We held a stall at the town's annual faith festival, 'Heart 4 Harlow', which aims to celebrate the local community through religious values.
PHE attended the festival, engaging with local people attending, promoting PHE's work and sharing information about the plans for the Science Hub.
As a result of the project team taking our message to residents, rather than relying on the public to come to us, the comprehensive consultation reached all areas of the Harlow community, and won praise from politicians and other consultees.
In designing the consultation for PHE Harlow, we understood the significance to many local stakeholders of the Gibberd Masterplan upon which Harlow is founded, and that an essential element of our engagement with civic consultees would be to demonstrate that the development would be in accordance with the founding principles of the settlement.
Outcome
Outline proposals received unanimous committee approval.
240 stakeholder groups engaged for nationally significant project

Unanimous committee approval