Albourne, Mid Sussex
Inspired Villages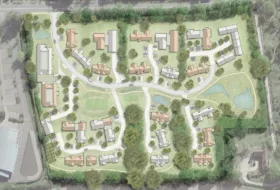 Scheme
Inspired Villages is an operator and developer of high-quality continuing care communities across the UK – allowing older residents the ability to lead a healthy and independent life. Situated immediately south of the existing village of Albourne, in September 2020 outline planning permission was secured on the site of the former Hazeldens Nursery.
The amenities in the new facility will include a mix of apartments and cottages, a village centre, local shop, bookable workshops, library, lounge, restaurant and bar, and treatment and function rooms. Inspired Villages purchased the site with the view to securing Reserved Matters and delivering the scheme.
Strategy
Recognising local sensitivities, Meeting Place made a deliberate and conscious effort to seek early engagement with key stakeholders prior to any public consultation. This involved meeting the Parish Council on two separate occasions – firstly to introduce the Inspired Villages team and secondly to outline our approach to public consultation. Meeting Place also facilitated a meeting with the then District Councillor, Cllr Judy Lllewlyn-Burke.
The public consultation itself featured a range of different stands to reflect the various benefits on offer for local people. In addition to information about the planning application, the Village Manager from the nearby village at Durrants (also run by Inspired Villages) was in attendance to answer questions about life at an Inspired Village. A stand was set up showcasing the various job vacancies that would be on offer to local people should the new development go ahead.
By hosting the event on Eventbrite, this also enabled Meeting Place to advertise the consultation on social media – with adverts running across Mid Sussex inviting interested residents to come along to the consultation event. This ensured that the level of feedback received was more representative of the local population.
Outcome
Despite the local sensitivities, Meeting Place was able to identify clear support for the proposals which would not otherwise have been found. Ongoing engagement with the Parish Council and with local residents, with a dedicated session for near neighbours, also ensured any objections to the proposals have been minimised. The application is currently being considered by Mid Sussex District Council.
Net zero, integrated retirement community

This new development will deliver jobs, opportunities and ecological enhancements for the benefit of the whole community