"The Es have it" – our top takeaways from the Spring Budget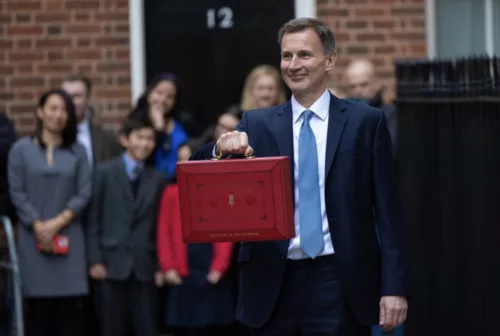 Chancellor Jeremy Hunt delivered his long-awaited Spring Budget today, structuring his main priorities as the four 'Es': Enterprise, Employment, Education and Everywhere – with stimulating economic growth a core ambition.
As the built environment will play a critical role in delivering economic growth against those aims, we've taken a close look at what the Budget announcements could mean for the sector:
1. Tackling inflation
Halving inflation is one of the five priorities identified by the Prime Minister, and the OBR has forecast it is set to fall from 10.1% to 2.9% by the end of 2023.
With the viability and delivery of homes under significant pressure during the present period of high inflation, delivering on this pledge will be a shot in the arm for the built environment – not least to help reduce costs associated with construction and materials.
2. Investment Zones
To support the delivery of enterprise and employment 'everywhere', the Chancellor announced the creation of 12 Investment Zones and pledged £80 million to support them. The Investment Zones will be located in eight mayoralty areas in England with further locations to be announced in Northern Ireland, Scotland and Wales too.
The Chancellor called for "bold and imaginative partnerships" to drive growth in key growth sectors, with universities and research centres playing a key role in developing research, development and innovation. The Investment Zones represent a significant opportunity for the built environment sector to support associated regeneration and place-shaping.
3. Regeneration
The Levelling Up agenda remains present, albeit rebadged as spreading growth 'everywhere'. £4 billion has already been allocated to over 200 projects with a third round of funding to follow. The Chancellor earmarked £200 million to support regeneration schemes across England with a further £161 million to facilitate regeneration in Mayoral Combined Authorities and in Greater London.
With regeneration remaining on the agenda across the regions, the built environment sector can play a leading role in delivering "70% of new growth outside of London". Reshaping communities for the better will play a vital role in delivering improved places and will help to not only deliver growth and jobs but also unlock the significant social value that regeneration can achieve when executed successfully.
4. Life Sciences and Artificial Intelligence
The Chancellor encapsulated his vision for "building Europe's most dynamic economy" by announcing substantial funding increases for research and development. Focused on long-term growth prospects, the Chancellor focused on key sectors including life sciences, film and television, advanced manufacturing and clean energy.
As a statement of ambition, he's established a £1 million 'Manchester Prize' – awarded to individuals or teams that deliver noteworthy research and innovation in artificial intelligence.
As part of this innovation agenda, the Chancellor also announced his intention to remove obstacles to investment in order to secure the UK's place as a "science and technology superpower". From delivering lab space, to facilitating community engagement, and when combined with the Innovation Zones, there are clearly significant untapped commercial benefits for the built environment sector to play an increased role in delivering the places that will facilitate long-term increases in R&D. There also remains substantial commercial opportunities for renewable energy.
5. Partnerships and delivery
Successful public-private partnerships were at the heart of the Chancellor's vision for delivering his ambition for further regeneration, job creation and boosting long-term growth. The Chancellor called for "civic entrepreneurship" and for local leaders to play an increased role in funding and delivering growth with greater autonomy from Westminster.
From 2024, the responsibility for economic development will move from LEPs to local authorities, with the Chancellor expressing a desire to give more control to local communities over their "economic destiny" in order to deliver "prosperity with a purpose". Successful local authority leaders should be seeking to establish and reinforce strategic partnerships with the built environment sector to realise local ambitions relating to delivering long-term opportunities and growth.
Effective partnership working and proactivity will also undoubtedly stand to benefit business cases for Levelling Up and associated funding bids. The built environment should actively seek opportunities to build on existing partnership work with LEPs and local authorities, with a view to playing a central role in local growth and regeneration agendas.
As an example of this in practice, Meeting Place is supporting this partnership agenda by facilitating the Hertfordshire infrastructure & Development Board, and we're in the process of developing similar boards in other areas.
6. Labour market reforms
The Chancellor also sought to tackle the UK's lower productivity trends as part of the Budget with a focus on getting people 'back to work'. Support was announced to help remove barriers for over-50s returning to the workplace.
From a built environment sector perspective, this may help to address the skills gap by alleviating shortages of skilled construction workers in the labour market, although it was somewhat disappointing to see the Chancellor focus so little on skills training for the next generation.
Lastly, support was announced to help working parents with childcare, which will likely have a large impact on working parents within the sector. At Meeting Place, we are proud of our flexible working policy and welcome policies that support women and families.
If you'd like to speak to us about what the Spring Budget could mean for you and your business, please email: hello@meeting-place.uk