A 'government-in-waiting'? Reflections on the Labour Party conference.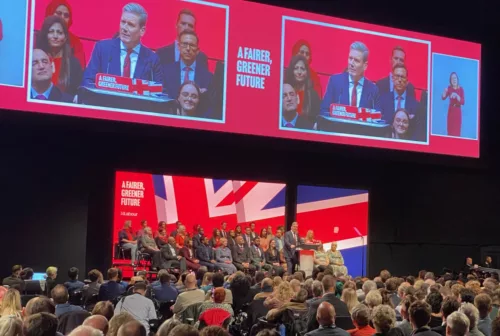 The Labour Party came together in Liverpool this week for the party's annual conference, following in the shadow of the Government's "mini" budget. The emergency budget was always going to dominate discussions for the week – with many of the conference speeches focused on the issue, after the value of the Pound suffered a significant plunge.
This year's conference was the second time Sir Keir Starmer MP was able to speak as party leader, after being elected at the start of the first wave of the pandemic. Many of the conference fringe meetings continued to focus on the levelling up agenda.
Andy Burnham, the Mayor of Greater Manchester, spoke at numerous events and shared platforms with Sadiq Khan. The sessions focused on the need for investment in a "London-style" transport system in cities outside the capital, which gave the impression the Metro Mayors are aligned in focus areas and any regional divides were largely superficial. There were a sizeable number of young activists at fringe debates proudly stating they were YIMBYs and encouraging house building in their communities.
I heard passionate speeches from young people who feared that they would not be able to get on the housing ladder within their lifetime – something which I believe will become a major feature of future political debate across the UK. Sir Keir's speech featured a section on housing and planning, outlining his ambition for the UK to become a home-owning nation, with 70% of the country having their own property.
Given several major mortgage providers stated they were temporarily halting new mortgages this week, he also announced there would be a guarantee that those who could afford it would be able to receive the finance. Sir Keir then went on to add that he plans to stop buy to let landlords "getting in first" ahead of local people buying homes. He also said he wants the property industry to put a greater emphasis on home building after being granted planning consent.
In addition, he said that he would end overseas investors funding the entirety of developments. There was little detail given on these announcements and how they would work. Set-piece political speeches rarely give the opportunity to give detail, and it will be interesting to see if these policies gain traction. There's certainly lots to mull over when thinking about Labour's conference in the context of the built environment.
Other interesting talking points include Lisa Nandy's proposal to boost council housing stock, a massive overhaul of the water industry – including possible prison sentences for the worst offenders of pollution, and of course the announcement of Great British Energy. In the midst of cost of living and energy crises, a state-owned, green energy organisation is certainly a powerful counter to current Conservative policy.
Overall, the Labour Party exuded a renewed confidence, which it certainly lacked over recent years. Seeing speeches from Shadow Chancellor Rachel Reeves and Lisa Nandy gave the impression that they increasingly see themselves as a government-in-waiting.
Cost of living will remain a central issue for some time, but for a growing number of young people the need for new housing will likely dominate the agenda. We can expect greater scrutiny on what the party is proposing over the next two years, when Liz Truss could meet the Monarch and call for Parliament to be dissolved at any time. They say a week is a long time in politics, but the rollercoaster of Westminster was particularly turbulent in recent days.