"No longer the new administration, but the now administration."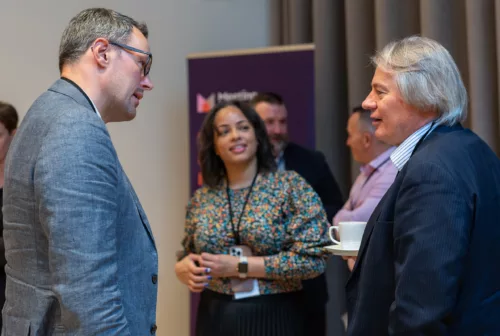 It was the above statement from Councillor Ross Houston that set the tone for an insightful breakfast event, hosted by Meeting Place in which LB Barnet's Deputy Leader outlined Labour's vision to ensure Barnet maximises its potential and how those in the built environment can contribute to this.
When Labour won control of Barnet in May 2022, it was the first time the party had won a majority in its history. The new administration didn't waste time in asserting five key commitments based on manifesto promises that would be acted upon.
Two of these commitments were in relation to the built environment:
Protect and enhance green spaces and declare an immediate climate emergency.
Stand up to developers for more affordable homes and against tower-block blight.
There had been a feeling in parts of Barnet that areas were at risk from overdevelopment, a line often repeated by some of the MPs. Between these sentiments and the change of administration, many of those in the built environment had wondered if Barnet was going to become more hostile to development.
During the breakfast meeting, however, Councillor Houston presented a positive vision of where Labour wanted to take the borough; respecting the commitments made at the start of their administration, but also recognising the good that development can bring and arguing against the government's decision to drop housing targets.
Key priorities for the borough include the need to build 1,000 new council homes. Progress has already been made here despite economic difficulties in the last year. Councillor Houston gave a clear message that Barnet was open for development that provided affordable and high-quality housing, including a mix of tenures such as Build to Rent, Co-living and student accommodation.
Cllr Houston recognises the shortage in housing that Barnet has, with the borough on course to become the most populated in London. Acknowledging that the way in which people live is changing he stated that the rental market is as important as ensuring a good supply of family homes and that working proactively with developers is the only way to get these much-needed homes built.
When discussing the changes approach since the new administration took over, he highlighted how changes had been made internally within the Council, stating that moving from a committee system to a cabinet system is a more effective way of delivering change; less bureaucratic and more transparent. This, in addition to bringing the planning team in-house are other ways in which Labour intends to quicken up the planning system within Barnet as he concedes some development, such as the estate regeneration programmes, are taking too long to deliver.
In order for developments to be successful in Barnet, Cllr Houston highlighted the need for community engagement to be at the forefront of developers plans with any new development working closely with the existing community to bring them along with the process.