Addressing a national crisis on a local level: Somerset Energy Saver.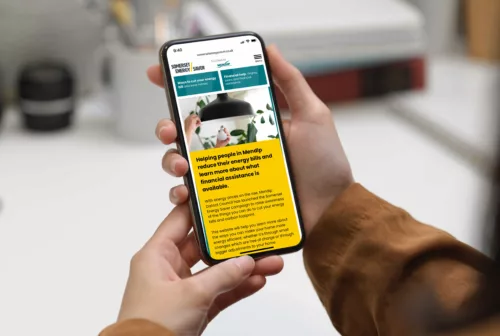 Mounting energy costs and the cost of living crisis have prompted a need for local authorities to play a greater role in addressing what will be a challenging time for many this winter.
While there is a disconnect between national policy and the efforts of local authorities in this area, there are measures – both small and large – that households can take to alleviate some of the financial burden.
A key challenge local authorities can face is communicating these measures in an organised and timely fashion to the residents that need it most. Meeting Place's team worked closely with global property and construction firm, Gleeds, to deliver a digitally-led PR campaign for Mendip District Council, focusing on tackling fuel poverty in the area.
Working alongside the teams at Mendip DC and Gleeds, Meeting Place devised and implemented the Somerset Energy Saver campaign, a PR and communications strategy which aligns with the Council's wider sustainability goals.
The website launched in September 2022, revolving around a digital hub containing changes that residents can make to their homes to save on their energy bills. These changes include measures that are free to implement, as well as changes that cost a small amount of money, and larger measures, such as retrofitting.
The digital hub also includes up-to-date information on energy performance certificates (EPCs) and the financial assistance that is available to help residents make changes to their homes without a major financial outlay. These could include grants for new boilers or air source heat pumps, low-interest loans or short-term financial help to households in immediate need. Working with subject matter experts at Gleeds and Mendip DC has enabled us to include the latest and most technically accurate information on these measures.
Supporting PR activity included press and media relations, pop-up events, a targeted letter drop, advertorials, engagement with local stakeholders, and paid social media adverts. The campaign launched with a press release to local media, activation of locally targeted Facebook ads and was further bolstered by banner ads on the Mendip DC website. With the digital focus of the campaign, the information given will reach the audiences who will benefit from the campaign the most.
Local authorities need to be empowered – as Mendip DC is – to bring measures that already exist to reduce energy bills to the forefront and communicate these to residents. Consolidating these measures into one accessible place and giving this information to those that need it most could provide a small comfort in the challenging months ahead.