Levelling the playing field for young people of colour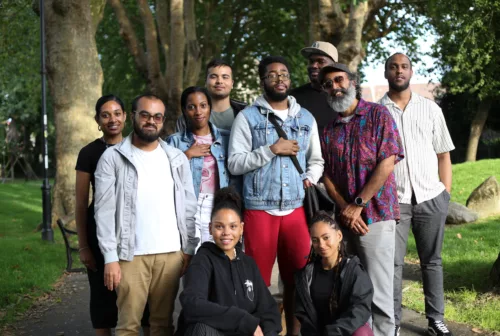 We caught up with Matt Rogers, Head of Development at our charity partner of the year, Babbasa. A Queen's Award-winning social enterprise, the team work with young people to ensure their backgrounds don't impact their future aspirations and opportunities.
To mark Black History Month (BHM), we spoke to Matt to understand how the organisation is making an impact on levelling the playing field for young people of colour and how the built environment can play its part to support.
Since 1987, the UK has celebrated Black History Month (BHM) each October, celebrating Black contributions to British society and educating on Black history. The theme for BHM 2023 is "Saluting Our Sisters", an opportunity for us to honour and recognise Black women who were silenced in the past and to come together to create a world where nobody's voice is silenced, regardless of their ethnicity and gender.
Black people have always been at the forefront of social justice movements, fighting against oppression and paving the way for change, and this Black History Month marks almost a year since the OurCity2030 initiative launched in Bristol, aimed at levelling the playing field for young people of colour.
What is OurCity2030?
November 2022 saw the launch of the OurCity2030 initiative, powered by Babbasa and the One City Office. This bold vision for Bristol aims to support at least 2,030 young people from low-income households, starting from inner city Bristol, to secure a median salary role by 2030.
Its purpose is to lift individuals out of poverty, increase representation in the workplace and create a new generation of role models for society. In brief, the initiative aims to support minoritised young people to secure meaningful employment; help increase representation and inclusion within the workplace and drive a city-wide strategy and momentum for more purposeful cross-sector collaborations.
Babbasa is the lead delivery partner of OurCity2030, working with other partners making up the advisory board – One City Office, Business West, Arup, University of Bristol, University of the West of England, BSWN and Cabot Learning Federation. For those who may not know about Babbasa, we are Bristol's youth empowerment social enterprise that for over 10 years has been bridging the employment gap for ethnically diverse young people from some of the most deprived areas of Bristol.
In that time, Babbasa has supported over 4,000 young people from over 60 cultural groups to successfully advance their professional ambitions.
Why is OurCity2030 needed?
Bristol is the economic powerhouse of the West of England region and has consistently reported higher-than-average economic growth over the last 15 years. However, not all its citizens share in this success, and research shows Bristol is the 7th worst of 348 districts in England and Wales for black and ethnic minority communities to live and thrive. It has 41 areas in the most deprived 10% in England, and an ethnicity employment gap which is twice the national average.
The recent Covid-19 pandemic, property prices rising faster than wages (particularly in inner city Bristol), and technological automations replacing low-paying jobs have further exacerbated the challenge for minority groups in the city. This threatens the overall cultural richness and economic prosperity enjoyed by Bristol in recent years, and taints the city's reputation.
OurCity2030 therefore seeks to bring together key city stakeholders to break the cycle of inequality and deprivation, nurturing the next generation of coders, creatives, activists, architects, engineers and social scientists – who are diverse in race, faith, culture and class.
Ultimately, it aims to act as a catalyst for Bristol to become a world class model city for inclusive growth.
The OurCity2030
Pathways Programme The OurCity2030 Pathways Programme forms part of the wider OurCity2030 initiative, based on consultation with industry leaders and young people. The programme is designed to work with industry sectors in a way that allows the organisations within them to solve their talent acquisition, cultural competency and workplace inclusion challenges in a single transaction.
In practice, the Pathways Programme offers access to work-ready ethnic minority talent (aged 18-30) for diversity of thought, workforce training to help staff build intercultural skill sets, and inclusion advisory services to help leaders to effectively manage diversity and create an inclusive industry.
The programme was successfully piloted with Bristol Creative Industries in 2023, resulting in 14 young people from across the city being placed into career-orientated paid internships with creative businesses. Over the next 18 months, the plans are to scale the programme across a number of other sectors, including the Built Environment, Health and Social Care, Green and Sustainability and Professional Services.
How can I get involved?
Whilst we have made good progress with OurCity2030 since its launch, we cannot achieve the vision alone. If you are a Bristol business, we urge you to join the OurCity2030 movement, and play your part in closing the inequality gap. To find out more, and register your interest, please visit OurCity2030.com or contact our Progression Manager iona.devaughn-earlle@byep.org.uk, and keep your eyes peeled for further information about the OurCity2030 Pathway into Built Environment.