Building bridges with Babbasa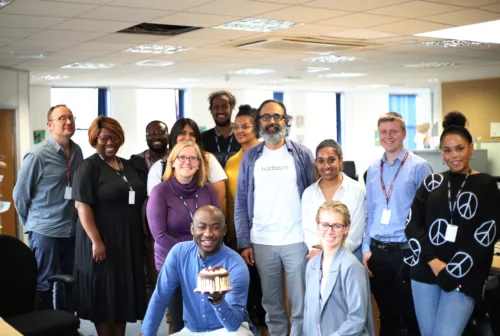 Celebrating its 10th anniversary this year, Babbasa is a Queen's Award-winning social enterprise, tackling rising youth unemployment, educational underachievement and declining aspirations across Bristol's diverse young communities.
Their name derives from an ancient African word, which translates as ordinary citizens or agencies coming together to act as a support bridge for those in need.
Given the great work they deliver for communities, we're supporting Babbasa by building another bridge – this time into the built environment industry – by partnering up with the team as our charity partner of the year.
To kick things off, we caught up with Matt Rogers, the group's Head of Development, to learn more about the organisation…
The problem
In the UK, we have one of the highest levels of income inequality and lowest levels of social mobility (the chance for anyone to achieve their potential) in the developed world (OECD, 2020).
The result of this is that, whilst ethnic minorities make up 14% of the total national population, they occupy more than 60% of all low-income households, and overall 46% of ethnic minority children in the UK are living in poverty.
This inequality is particularly stark in Bristol.
Despite being the economic powerhouse of the West of England, research shows Bristol is the 7th worst of 348 districts in England & Wales for black and ethnic minority communities to live and thrive. It has 41 areas in the most deprived 10% in England, and an ethnic employment gap which is twice the national average.
The solution
At Babbasa, we believe that although talent is evenly distributed across the globe, opportunities are not. We support underrepresented young people to achieve their aspirations and businesses to become more inclusive.
We do this through offering a variety of experiences and opportunities that enable minoritised young people aged 16-30, to progress into or within education, employment or entrepreneurship.
Through our five core youth empowerment programmes, we bring together a mix of soft skills training, mentoring, career-oriented events, and targeted recruitment support. These programmes are tailored to each young person's needs to help them acquire confidence, develop skills, build social capital, and attain career-oriented experience at their own pace.
Since we began in 2013, we have supported over 4,000 young people to achieve their aspirations. One of those young people is Shakerah (see below).
Babbasa Recruitment & Inclusion Services (BRIS)
A few years ago, we realised that as well as supporting young people from ethnically diverse and disadvantaged communities to pursue their professional ambitions, we also had a responsibility to come at this from the other side as well, and support businesses to create the enabling and inclusive environment needed for these young people to thrive.
For this reason, we launched Babbasa Recruitment & Inclusion Services (BRIS) to increase the understanding of EDI within organisations, and to improve inclusiveness, and diversity of their workforces by increasing the number of minority applicants for their roles. BRIS works with organisations across all sectors. Whilst we are partly place-based, and can only direct support with the recruitment of underrepresented young people in Bristol, we offer our EDI services nationally.
These EDI services include analysis of your inclusion needs, EDI advisory support on areas such as HR policies and recruitment processes, and cultural competency training modules on inclusive leadership, inclusive HR practices, intercultural communication skills and how to engage young people.
OurCity2030
In order to scale our impact, in November 2022 we launched the OurCity2030 initiative, which aims to support 2030 young people from low-income households, starting from inner city Bristol, to secure a median salary role by 2030. Its purpose is to lift individuals out of poverty, increase representation in the workplace and create a new generation of role models for society.
Whilst we have made good progress with OurCity2030 since its launch, we cannot achieve the vision alone. If you are a Bristol business, we urge you to join the OurCity2030 movement, and be part of the change to create a new generation of coders, creatives, activists, architects, engineers, entrepreneurs and social scientists who are truly diverse in race, faith, culture and class.
Find out more, and register your interest in OurCity2030, at ourcity2030.com.
My Story – Shakerah
"Poverty was a big thing for me, and trying to go against the grain and not be the stereotype of a young black person or a young black woman. I would also say being the first in my family to go to university was a big challenge.
"What motivated me, first and foremost, was coming from a poor background. Also losing my mum from a young age as well, I had to kind of hustle to find my feet in the world, just really trying to push myself to be the best version of myself. I wouldn't describe myself as a natural academic. It meant that I always had to work really hard to get the grades that I wanted to get and wouldn't always achieve them.
"I came across a member of staff who worked for Babbasa, and we had a conversation about my employment situation and what I wanted to do, and that was how I started to get involved with them.
"Babbasa has helped me to have the tools and the confidence to go after my dreams, to have the skills to really present myself in situations whereby I might be a bit more timid, and to really acknowledge the skills and the value that I have so I can sell myself to employers."