Bringing underrepresented voices to mainstream media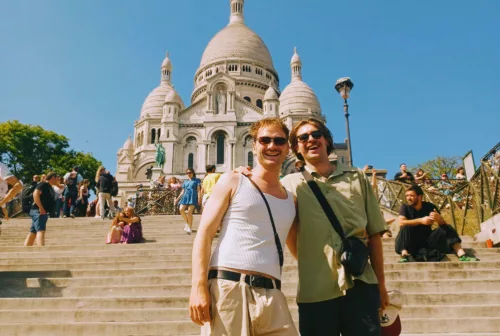 For businesses and employees alike, it's important that individuals feel empowered to pursue their interests and passions outside of work. Organisations need to create structures that enable this, with policies like flexible and remote working.
Meeting Place's commitment to these policies has allowed me to do just that – continue pursuing my passion as a freelance queer culture journalist.
I have spent the past few years covering a range of stories, including a drag performance produced by and featuring an entirely trans group of artists, deep diving into Bristol's underground LGBT+ nightlife scene and a new queer skate group created to provide safer spaces in skate parks.
Whilst working in Australia and New Zealand, my articles focused on my own experience as a queer man exploring activities like hiking, surfing and skateboarding where LGBT+ communities have been historically less visible.
We are living in an increasingly difficult time to be a part of the LGBT+ community. My friends in the trans community face increasing discrimination from both the media and general public sentiment.
It's more important than ever to be pushing queer narratives, showing these people are human and need spaces for self-expression.
This work is indispensable to me – having grown up in spaces where I began to feel like I didn't belong. I was raised by parents who were always taking me out into the hills for swims, walks and bike rides.
Luckily, I grew up in Shrewsbury with very easy connections to the countryside, so it felt to me like everyone could access rural areas without issues.
Unfortunately, as I got older, I began to see this wasn't necessarily the case. I realised I was different to my peers thanks to my sexuality, and Shrewsbury wasn't the most tolerant place. I wouldn't often see people who looked, acted or dressed like me, it felt pretty isolating.
It wasn't until I moved to Australia and lived in Melbourne that I learned how to fully express myself and be visible and outspoken about my sexuality. This was thanks to being surrounded by an incredibly diverse and open group of queer people.
The most rewarding part of the role for me is when people tell me my articles have made them feel visible. I've been thanked for giving a platform to demographics that are traditionally either ignored, portrayed negatively or as victims by the press.
As part of my freelancer role, I have been offered many opportunities from speaking at a Bristol24/7 networking event on the importance of queer journalism, to taking part in a Pride Month discussion panel for Our Media, here in Bristol.
Without Meeting Place's support for flexible working, I wouldn't be able to attend these events, as they tend to happen in the workday. Missing these opportunities would mean these spaces, such as the networking event, wouldn't have a representative of the queer community.
Many people told me at the Bristol24/7 networking event that hearing about my articles and my background was incredibly eye-opening and had helped shift their perspective.
Bringing an open, informative queer voice to as many events and spaces as possible is hugely beneficial. I believe it's one of the first steps towards a reduction in discrimination and, ultimately, hopefully one day, achieving equality.
Thanks to Meeting Place's flexibility and understanding of the personal importance of my journalism, I can see I will be able to continue pursuing my passion for bringing queer perspectives to mainstream media.