Babbasa Careers Fair inspires the leaders of tomorrow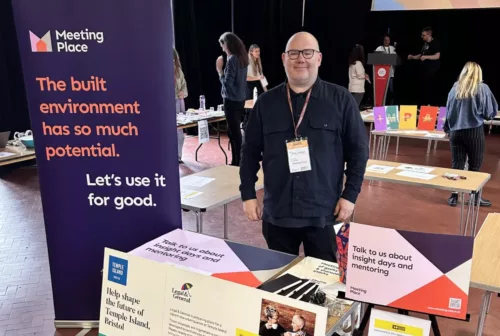 The Meeting Place team knows that to push for positive change, you must include the younger generation in conversations. Babbasa generously invited Meeting Place to their Aim High Careers Fair last week, helping inspire the future leaders of tomorrow.
Babbasa is an organisation that aims to empower young people from ethnically diverse and less advantaged communities to move into work, education, or business.
Meeting Place is working closely with Babbasa this year to support them in achieving this mission, and so it was great to offer insight on the built environment and how it can be used as a force for good.
One of Meeting Place's company values is inclusivity, it's a core motivation to push for visibility and diversity within the built environment industry, ensuring everyone's voices is heard.
Speaking to people from underrepresented backgrounds and giving them industry insight was a step towards achieving this goal.
The Aim High Careers Fair featured engaging talks, networking opportunities with work experience offers alongside recruiters in a friendly and welcoming environment.
Conversations revolved around achieving development both sustainably and impactfully. The room was full of incredibly articulate and driven young people keen to talk in detail about their futures.
Meeting Place, represented by Nikki Davies and Mike Jenkins, offered guidance through opportunities including insight days, which give a taster of a career in the built environment industry, as well as mentoring.
Using an information board from the first round of engagement for Legal & General's Temple Island development was a great way to draw people in. It created discussion around the potential of the built environment to benefit communities.
Being able to speak with the younger generation is hugely beneficial, it will help to cement social value as a core asset to the built environment industry.
Social impact is a growing field within the sector, so it was great to see extensive representation from the built environment at the careers fair.
Representation from architects Chapman Taylor, engineers Burro Happold and multi-disciplinary AtkinsRealis at the careers fair reflects that the built environment industry is working hard to increase representation and diversity.
Creating conversations and offering opportunities to those less visible within the industry is exactly how we can push for change. This way we can create a world where the built environment is seen as a wholly positive force.