St Christophers, Bristol
Socius, Amicala and FORE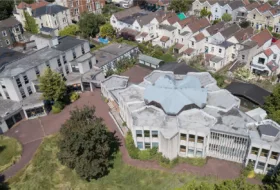 Scheme
Plans for a new retirement community will see Christopher's Square in Westbury Park rejuvenated to include the sensitive restoration of Victorian and Grade II Listed buildings.
120 integrated retirement community – or 'extra care' - homes will be supported by a mix of residents' facilities which include a café/bistro, activity rooms and a wellness suite including a hydrotherapy pool, gym and exercise rooms. It is intended that some of these facilities will also be available to the local community.
Strategy
The site comes with a myriad of sensitivities, being bounded on all sides by existing properties, having formerly housed a SEND school, sitting within a conservation area and including a Grade II Listed Building, along with existing Victorian villas.
The consultation and engagement programme was designed to address these issues and to give residents maximum opportunity to share their thoughts and feedback on the proposals. We oversaw engagement with more than 30 local community groups, political stakeholders and city-wide organisations, helping the partnership to involve a wide range of views as the proposals were evolved by the design team.
Our community consultation programme included a mix of physical and digital consultation methods - near neighbour events, guided site tours, community design workshops, community drop-in sessions and focussed digital webinars.
Outcome
The project team engaged face to face with over 200 local residents and, by receiving timely feedback throughout the design process, was able to make several key amendments to the proposals in response to comments received without harming the viability of the scheme.
A bespoke digital survey, publicised via social media, also received over 4,000 responses to poll questions from nearly 700 individual voters. The application is pending consideration by Bristol City Council.
Engaged with

30

local community groups, political stakeholders and city-wide organisations

4,000

responses to poll questions from nearly 700 individual voters