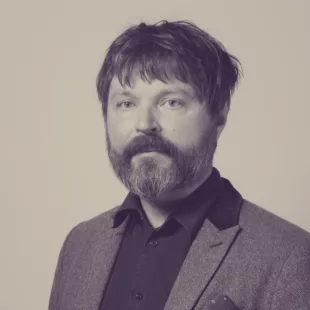 Julian Guy
Senior Developer
As a Senior Developer and passionate advocate of web standards and accessibility Julian helps produce cleanly coded and beautiful digital solutions for our clients. Julian brings over 25 years' of development experience to Meeting Place and has a large set of coding skills ranging from back-end application development to slick front-end solutions.
He started his career in digital agencies and built sites for many large brands including BBC, Triumph, KIA, Halfords, Orange and Toni&Guy. He then moved into the music and arts sector and produced hundreds of projects including David Bowie, Kylie Minogue, Nick Cave, Girls Aloud, Massive Attack, Depeche Mode, Basement Jaxx, Lorde, Bristol Beacon, Kings Place, Rambert Ballet and Komedia.
On his days off Julian loves to make pizzas and runs an Instagram account @poshcheeseontoast which has over 30,000 followers. He also enjoys playing guitar, watching dreadful sci-fi films and exploring the countryside with his family.
Contact Julian
We're the Meeting Place

of deep knowledge
and creative thinking.
And we want to

hear from you.
Speak to our team on
0117 428 6873