What the built environment can expect, now the Levelling Up and Regeneration Bill is back on track.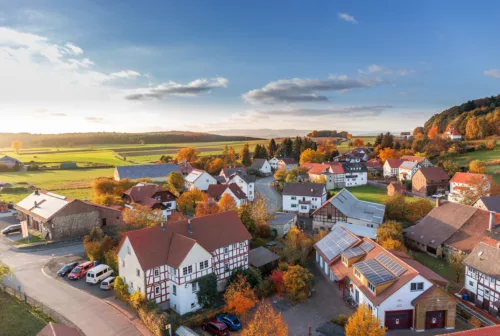 Government commitments – just like Prime Ministers – seem to ebb and flow these days.
Gove recently confirmed the Government's manifesto pledge to deliver 300,000 homes by the middle of the decade was back on the cards again, after it was temporarily trashed under Truss.
With further reversals expected in Hunt's Autumn Budget, Gove's return as housing secretary will likely spell the death knell on Truss's "supply-side" planning agenda, which included creating deregulated investment zones.
Another big change coming down the line for the sector is the pending Levelling Up and Regeneration Bill, tabled under the Johnson government, which is currently going through parliament.
The bill – which seeks to grant more powers to local authorities and provide more funding for town-centre regen – has a core purpose of "driving growth, empowering local leaders to regenerate their areas, to ensure everyone can share in the United Kingdom's success".
In her first speech as our fourteenth housing minister since 2010, Lucy Frazer said planning reform would be a major focus and reiterated the government remains committed to the bill. It's suggested that the new legislation should reduce delays and costs for housebuilders by rationalising and speeding up the planning system.
Although it could be subject to various changes, with more specific detail expected in the Autumn Budget, we've taken a look at some of the larger-scale impacts which could come about as a result of the new legislation.
A goodbye to CIL
Although the Mayoral CIL will continue in London, elsewhere, Community Infrastructure Levies – a charge from local authorities on new development in their area – will be gone completely.


Instead, the levy will now be a percentage of the gross development value (GDV) of a site, which – it is hoped – will reduce the use of viability being the reason why elements of a development can't be delivered, or that the level of affordable homes needs to drop.


Payment of the non-negotiable infrastructure levy will be required before development commences via an instalment plan or on account. It's expected that this will force developers to pay as they go, rather than worrying about delivering the other elements once homes are built.


As a result of the point above, the GDV will be on the site before development begins, not just on sales. Clearly, there will be winners and losers with this.
S278 will be discouraged
Instead, the local Highways Authority will carry out S278 works on behalf of the contractor, so rather than a homebuilder appointing and overseeing their own highways teams, they will simply pay money for Highways to carry it out.
Prioritising the brownfield
The Bill also outlines how the UK can make better use of regenerating brownfield sites by simplifying Compulsory Purchase Orders and giving power to authorities through new Urban Development Corporations.


This model allows non-mayoral areas to create their own LDCs (Local Development Corporations), which would deliver regeneration and growth, specific to their area's needs.
Greater enforcement powers
Finally, the legislation also covers greater enforcement powers to tackle dodgy development, with the current building control enforcement – on builds or a developer who has not adhered to approved plans – extending from 4 to 10 years.


Having already seen a rise in instructions where developers must go back and amend parts of a site, it's entirely possible we'll see a lot more of this going forwards.
Although these changes will make a big impact, just a few years until the next general election – and with all the political uncertainties facing the Sunak government – it's unlikely Gove's ambition for planning reform will feature too heavily and rock the boat in Hunt's statement.
Please get in touch with us if you wish to discuss the Bill's implications in more detail.