State of the City, Bristol – the Mayor's perspective.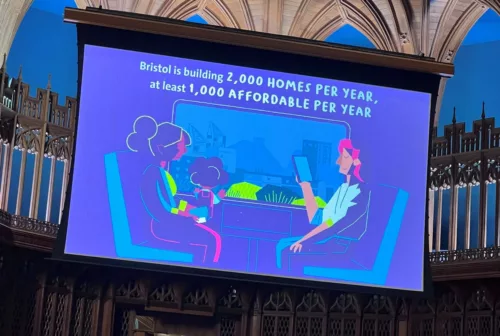 Evelyn Welch, Vice Chancellor of Bristol University, introduced the city of Bristol as a remarkable one as she introduced the Mayor's State of the City Address last week. 
Having spent almost six months working between South Wales and Bristol, I would agree with this sentiment. Welcoming, vibrant and growing – Bristol is a more than exciting place, but like the rest of the country, it is not immune from the modern pressures and stresses that we all face.
Mayor Marvin Rees' words were hopeful yet realistic and he rightly drew attention to the many successes of the previous year. Major investments into developments were championed by the Mayor, including Temple Island (a project we're proud to be supporting).
Temple Island will be an example of an inclusive economic hub at the heart of Temple Quarter and a key part of the city as it grows in the future – delivering new homes and jobs, right next to a regenerated Temple Meads station.
A further achievement is that of Goram Homes. Established by the council in 2019, with the support of Goram Homes and other housebuilders, the current construction of affordable homes is at a 12-year high in the city. Again, we're proud to have recently supported a positive determination for their plans for Dovercourt Road.
Against the notable achievements, Mayor Rees outlined the issues the city faces. He reminded us that the cost-of-living crisis is mirrored by a cost-of-operating crisis in local government and stressed the importance of trade-offs as we wade deeper into uncertain waters.
In a perfect world, we could solve every issue through local government, but as becomes more obvious every day, this is not a perfect world.
Mayor Rees also pointed to the risks to delivery that exists at a local level, unsurprisingly identifying the impending change to a committee system, which will take effect at the end of his term. Fairly, Mayor Rees suggested that the success of the new system would be judged on its ability to deliver.
Interestingly, the Labour Party in Bristol opened its councillor selection process on Monday. Given elections aren't until 2024, this early mobilisation points to a party embracing the committee system, reluctantly or otherwise, but recognising the challenge it will have in maintaining power in the city. It will be a challenge for all parties to operate in a way that provides Bristol with the leadership it needs.
As we move into the penultimate year of the Mayor's tenure, his message is clear: it's not going to be easy, but Bristol can thrive."