Social impact in the Capital: Reflecting on our London Social Value Symposium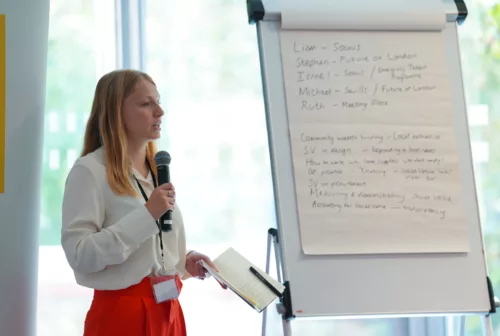 Following on from our Bristol and Cambridge events, our third social value symposium of the year took us to London. The capital has, for so long, been ahead of the curve in the field of social impact but remains one of the UK's most unequal cities.
We gathered industry experts, social enterprises and borough councils with event partners – Socius, Savills Earth, Building Heroes, Places for People, Impact Alchemy and Regal London. The three round table discussions aimed to understand ways in which the built environment can tackle the scale of the issue.
Conversations were broad reaching in their themes but carried an underlying message that we all wanted to empower communities by leaving a long-term legacy. We concluded that, when it comes to social impact delivery and reporting, 'sometimes it has to be complicated to be comprehensive'.
Here are our five key takeaways:
1. Understand the social footprint
We've seen the circular economy model, that ensures endless reuse of resource, in economic terms, but delegates highlighted how we can use this within our social impact strategies. Our development sites should never have waste, be that space, resource or funds and instead, this should be fed back into local initiatives.
This could include meanwhile use, food growing initiatives in green spaces and contributions to long term programmes.
To make this possible, social impact should be embedded from bid stage through planning, and all the way to construction. This is fundamental to ensuring that there is a maximum impact for communities.
2. Stop being risk-averse
Our partnerships should reflect the social vision we want to demonstrate as a business. The industry should hold our wider teams to account even when this can mean disrupting current working practices.
There was also consensus that we need to find initiatives that work for each local area. What works in Brent may not work in Southwark, and we can't play a game of postcodes.
The specific experiences of people, their background and class are huge factors and our engagement with them is currently entrenched in overly risk-averse behaviour. When we only support well establish groups rather than looking at local need, we are potentially limiting the impact and effect of social lending.
3. Enable local partners
Delegates highlighted the need for community wealth building and long-term legacy once our teams leave the site. To do this effectively, we must focus on the priority needs in the immediate communities and explore how they could change going forward. We must be designing for now, but also for what is to come.
In particular, the legacy of youth programmes was discussed. It is often hard to demonstrate the impact you might have had on the long-term outcomes for a child through a programme or a resource. However, ensuring these initiatives stay in place for generations to come has the potential of changing the narrative for entire communities.
4. Use clear language
We need to start using a different language to articulate social impact. The built environment sector uses language that is about bricks and mortar rather than about people and lived experience. This approach should also be reflected in how we work with schools and colleges when we talk to them about career paths – we want to attract people from all backgrounds into the sector rather than alienate with over complex terms.
5. Find the lost voices
The key challenge is ensuring that initiatives, finance and credit are directed at the organisations where it is most needed, not those with the loudest voices. Often, communities are advocates for local groups, but it is only when we are in the room and having conversations that we find out about networks of people and organisations in the local area.
The takeaway here was a renewed desire to connect with grassroots groups and find ways to support them long term.
In conclusion, the conversations demonstrated the appetite to move along a different trajectory, subverting current practice and ensuring that our built environment is developed in collaboration with people, not something which is imposed upon them.