How a PESO approach to PR can supercharge a client's return on investment.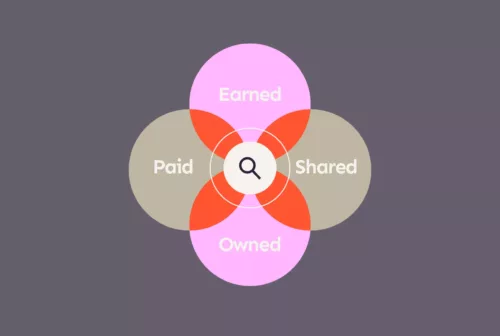 In recent years, the PR industry has broadly welcomed a shift away from archaic metrics, such as AVE (advertising value equivalent), to more outcome-driven, digital measurements. The approach undoubtedly provides a more holistic overview of campaigns, improves ROI, and delivers a more effective measurement of impact. Despite this, marketing budgets will become increasingly scrutinised by clients in the coming months, especially as we emerge out of the pandemic into a global recession. As a result, savvy PR agencies which implement value-for-money campaigns – such as by using an integrated PESO model – will be better positioned to navigate the choppy waters ahead, justifying PR investment as a critical part of the marketing mix.
What is the PESO model?
PESO – Paid, Earned, Shared and Owned – is an integrated media model strategy which prioritises serving up engaging, channel-agnostic content to target audiences and stakeholders. It helps companies to better integrate their marketing efforts, in a bid to reach audiences more efficiently and effectively. Covering several marketing disciplines, the flexible strategy focuses on delivering the most appealing content via the right channels at the right stage of the consumer journey, rather than solely relying on publicity through earned media.
What do the PESO terms cover?
Paid media – covering more traditional advertising content, this also includes sponsored editorial content, social media advertising, and comms through membership channels
Earned media – a critical part of a PR's skillset, this covers free media placements from thought leadership, press releases, letters to editors, "newsjacking" opportunities and blogger relations
Shared media – this mainly covers organic social media content, but also includes engagement with online communities, such as through reviews or forums
Owned media – a critical element in the mix, owned media covers a brand's marketing efforts, such as webinars, podcasts, animations, videos and blog posts
Why is the PESO model important?
Whilst it's great the PR industry has moved on from placing significance on dinosaur metrics like AVE, the shift to digital insights can overlook an integrated approach to on and offline campaigning. Agencies can often fixate on numbers and the importance of digital metrics, which can stifle campaign creativity and limit face-to-face engagement – two vital components in a successful PR toolkit. A PESO model will ensure critical communications and marketing components are aligned with consistent messaging across all channels, which will help to deliver a stronger ROI for clients.
What approach does Meeting Place take towards PESO?
Working within the built environment, we often engage communities on a local level, raising awareness at consultations or in-person events. 

Using the PESO model as a guide, we recently worked with Mendip District Council to help residents save on their energy bills during the cost-of-living crisis. Although website traffic and reach from local social media ads were key to the campaign, we also attended farmers' markets, in person, to take the message to the people. 

This is a key example of how we have successfully utilised the PESO model during a campaign, giving equal prominence to paid, owned, and shared channels. Putting an even focus across all channels increased the likelihood that audiences within the region received key messaging from the campaign, regardless of whether they had access to the internet or not.
In summary
The key reason for using the PESO model is not only because it maximises ROI for clients, but it also gives a holistic overview of what is delivering the best impact across each channel. It shows where marketing efforts should be focused, and where more attention is needed to create a seamlessly integrated mix. The PESO model's constituent parts hold equal importance and are far more impactful when used in conjunction with one another. Brought together, they compound the impact of campaigns, deliver a cohesive message and boost ROI at a critical time when budgets are becoming increasingly scrutinised.