How striking the right balance on community engagement can leave a lasting legacy.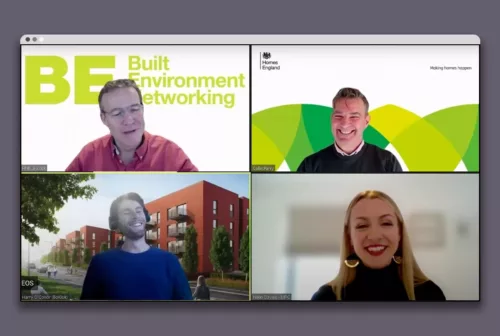 In his recent Autumn Statement, Hunt gave some welcome relief that large infrastructure projects – such as Sizewell C, HS2 and Northern Powerhouse Rail – would be back on the agenda after successive flip-flopping from his predecessors.
Like the 2012 Olympics and Crossrail before them, these projects will span decades, impact millions and cost billions. However, an often-overlooked element is how projects – big and small – should engage with communities before, during and after-build, to leave lasting legacies.
We took part in Built Environment Networking's recent conference to debate just how critical a role community engagement and marketing can play when it comes to project legacy.
The first session delved into the importance of early community engagement and the importance of timing – attended by Phil Laycock – BEN, Colin Parry – Homes England, Harry O'Conor – BoKlok and Nikki Davies – Meeting Place.
There was overwhelming agreement in the session that you need to take engagement to the people, but critically, you should also engage at the earliest opportunity. You should also engage closely with the existing community, who could – anMeeting d should – become your project's greatest ally. Panellists outlined developers should clearly communicate what they can realistically deliver for the existing community before engaging with them closely as key stakeholders.
The session also heard how engagement shouldn't be too heavily defined by boundaries. We should look beyond the redline and understand how new development impacts a much wider area – whether that's politicians, social interest groups, or school networks.
Session two, chaired by Nikki Davies, delved into post-development legacy and how engagement shouldn't just be a box-ticking process to get planning over the line.
Attended by Damian Greenfield – National Highways, Karen Elson – Co.Cre8 and Maddelyn Sutton, HS2, the session focused on how legacy should be embedded into schemes in the long term and explored how the leading organisations integrated it into their plans.
Damian explained how National Highways engages with communities along the thousand miles of motorways and A-roads the business oversees. For National Highways, our roads are the arteries of our communities – they play a critical part in the economy, encouraging trade, jobs and investment across the country – delivering an estimated £3 benefit for every £1 spent.
For Damian, capturing the social value created is key across the various touchpoints across the length and breadth of the UK, which National Highways breaks down into its pillars of social value: Economic Prosperity, Improving the Environment, Community Wellbeing and EDDI.
For Maddelyn – head of HS2's community and stakeholder engagement – a project's legacy is all about respecting people and places. As one of Europe's largest infrastructure projects, the 170 miles of high-speed rail line being built impacts thousands of people, hundreds of councils, and dozens of MPs. Given the size, longevity, and complexity of the project, she believes momentum is key in delivering for local communities in the long term. In a similar vein to National Highways' approach, HS2 frames its community commitment against four key themes: Informing, Involving, Responding and Consulting.
Karen Elson, Knowledge Director at Co.Cre8, works with major infrastructure projects like HS2 to see how the industry can capture best practice and learn from past projects – creating knowledge ecosystems which publish and disseminate learning legacy documents. Whether it's the community engagement delivered through the 2012 Olympics or HS2, Karen called on the sector to "pinch with pride" – taking an open-source approach to accessing best practice case studies when it comes to implementing community engagement in future projects.
Although the scale of the large infrastructure projects are impressive, the panellists agreed that current ESG/social value measurements and metrics only scratch the surface when it comes to properly capturing a project's long-term holistic impact. Because there is currently no standardisation – with everyone using a different approach – the session called for an agreed standard values system, with aligned metrics, to capture a project's impact.
For want of a proper measurement tool, the panellists concluded how vital it is to build engagement into projects from the offset. When you go through a lifecycle of a scheme – from planning to a spade in the ground – people will more likely understand the benefits if the developer has taken the stakeholder on that journey.
In conclusion, all panellists agreed:
Earlier and more often, with empathy, is vital to get the advocacy we need and it doesn't end when the project completes.