Housing's central role at the 2023 Conservative Party Conference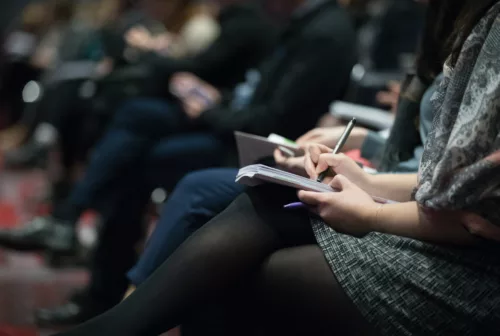 From the furore surrounding HS2's precarious future, to 15-minute cities and slowly phasing out smoking, the Conservative Party Conference certainly made headlines this week.
But away from the front pages, a series of announcements were made to tackle issues facing the built environment industry
With a close ear to the ground, Meeting Place's team attended the conference in Manchester and drew conclusions on the atmosphere, as well as Conservative Party policies and promises which will likely impact the sector.
Ash Davies – Account Manager
The housing and planning reform discussions attracted significant attention, highlighting housing as a key domestic political issue. These talks emphasised the societal and electoral significance of addressing the housing crisis.
While infrastructure was undoubtedly a major focus, there was a noticeable public weariness towards more promises after 13 years of waiting for delivery. The disagreement between Birmingham Mayor Andy Street and the Prime Minister regarding HS2 dominated infrastructure conversations.
Environmental concerns also played a central role, evidenced by the well-attended Conservative Environment Network meetings and widespread backing for the government's revised net zero goals, aiming for a cost-effective transition.
Meeting Place noted the robust emphasis on localism, with the LGA Conservative group devising a manifesto to recover lost council seats. Future efforts should prioritise unlocking brownfield sites, especially in the Green Belt, to facilitate homebuilding.
Jacob Jefferson – Account Executive
A big positive for this year's Conservative Party Conference is that it was definitely an improvement from last year. 2022's conference resembled a funeral rather than a celebration of then-new Prime Minister Liz Truss.
Someone more cynical could argue that all groups knew that the next election is a done deal, and the conference was more used as a future posturing event about the direction of the Conservative Party. Often feeling like the one man who has not given up on the next election is the Prime Minister himself.
As part of the PM's push to end the 'war on motorists', Transport Secretary Mark Harper criticised the concept of 15-minute cities which some councils in England have introduced. This involves introducing local travel restrictions to encourage residents to walk or take public transport to reach their local amenities. The trade-off between encouraging sustainable travel but still ensuring local people have personal freedom to use their cars is a tough one.
The right of the party certainly made a lot noise, led by Liz Truss and Jacob Rees-Mogg (who were prominent in calling for planning reform to build more homes – alongside other hot topics like high immigration and taxation).
The left and centre of the party were still prominent, with remain rebel David Gauke very active at fringe events, and Penny Mordaunt and James Cleverly regularly speaking at the many drinks receptions.
Senior people at the conference said that the Prime Minister genuinely believes his policy announcements on HS2, smoking and education will bring long-term benefits to the country. Not only this, but that these policies will create a clear distinction between him, the energetic change candidate making long-term decisions for future generations, and Starmer, the 'flip-flopper' with no new vision for governing. That is, of course, a tough sell after thirteen years in government.
Kelham Cooke – Account Manager
This was the third party conference in a row with a different Prime Minister and Leader, in spite of this, the take-home message centred around the concept of change. This conference reminded me more of the calmer Cameron years, but the Cabinet Minister speeches still lacked significant policy changes.
In terms of housing policy, the party is still committed to delivering 1 million homes this parliament. The onus of this sits with local authorities through the local plan mechanism, to determine whereabouts these homes should be located. The drive and ambition to meet this target is still very much present within the party.
The arrival of a new Levelling Up Minister brings much more flexibility about proposals for combined authorities, and whether areas should have directly elected Mayors or Leaders, which will be an interesting development to monitor in terms of future stakeholder engagement.
Gove confirmed the Department for Levelling Up, Housing and Communities will not intervene on proposals of development within the greenbelt. This emphasises how the responsibility for this lies with local councillors to make the decision.
Similar to ULEZ, if the Government stepped in it would not be respecting the mandate of local residents to elect individuals, whether that's the Mayor of London, or your local Councillor.
To me the decision to limit HS2 was not surprising. There is now an incredible amount of potential investment utilising £39bn into schemes across the Midlands and the North into long-awaited transport improvements.
Isobel Ballsdon – Account Director
In the DLUHC Q&A session, Gove started off with an acknowledgement that we do want new homes, but this means a balance between environmental pressures whilst also creating new infrastructure.
I posed the question: "Would the panel agree with me that a lack of understanding, both with residents, but also politicians is a hurdle we need to get over? E.g., green belt – areas that really don't look like it, people don't fully understand it. We need more houses, and tackling this issue could help."
Gove responded by saying local authorities can redesignate their green belt. It would be a mistake for Government to override it. Councillor James Jamieson, the former LGA chairman, reflected that "We need a sensible conversation about green belts."
Councillor Martin Tett – Leader of Buckinghamshire Council – stated that we needed to protect the green belt. He went on to comment that the problem is that housing needs assessment, if the government forces councils to do it, creates an issue. It can push the pressure into unprotected areas, the issue is "not as easy as Gove puts it."
Rachel Maclean MP recognised my point on the general lack of understanding, saying that the simplifications coming in the Government's planning legislation will improve matters.
Rachel added London is a strategic asset in answering the country's housing crisis. We want to allow densification of development so that people can live where they want to live.
She added that it is wrong that big companies dominate the industry as it can damage the quality of the product, and local builders get higher rates of community support. She also sees nutrient neutrality as hampering builders.
On the Levelling Up Bill, Gove said it has completed its passage through the Lords. The party will agree with some and disagree with a smaller proportion. The party will agree with some of the Lords' proposed changes and disagree with a smaller proportion.
To a question on why the Government doesn't make it mandatory for solar panels to be installed on all new houses, Lee Rolley MP said that by 2025 all new builds will be ready to support zero carbon measures. He added that solar panels aren't always a right fit, "not all places are as sunny as the Isle of Wight!
Conclusion
Across the board, housing and the built environment was a hot topic at this year's conference. Behind the headlines of HS2, the Conservatives are still forging ahead with an image of delivering housing targets and tackling the housing crisis.
With Ash's observation that housing could be seen as the most important domestic political issue, it will form a key part of debates and posturing moving towards the 2024 election. Having attended the Lib Dem conference, and with Labour's upcoming, we will continue to closely monitor new policies throughout the party conference season.